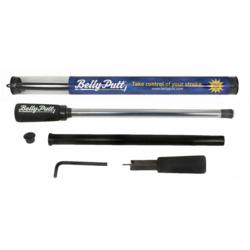 Lafayette, LA (PRWEB) November 12, 2011
It took a couple of years for the "Belly Putt" to become an overnight sensation. But it was worth the wait, both for inventor Clay Judice and for the equipment staff at Golfballs.com.
Now, Judice races to keep up with the demand for one of the nation's hottest golf equipment items.
"I always knew it was a good idea," Judice says. "But when all those guys started winning on the PGA Tour with the belly putters, that put a spotlight on it."
Judice's "Belly Putt" conversion kit allows any golfer to temporarily or permanently convert a standard putter into a longer-length belly putter. It is adjustable to any length up to seven inches longer than standard putters, allowing players to experiment until they find the most comfortable length for their game.
It also allows players interested in a long putter the opportunity for an inexpensive conversion of their regular putter – "test-driving," as Judice put it – as well as the ability to return it to its normal configuration.
"It was definitely a product we saw potential in," said Golfballs.com president and CEO Tom Cox. "I told Clay after our first meeting that we wouldn't be able to create a trend, but we would certainly be able to maximize one that came along."
That trend began happening during the 2011 PGA Tour season, when several Tour players began using – and winning with – belly putters. Keegan Bradley's victory in the PGA Championship and Webb Simpson's two wins and No. 2 finish on the Tour money list ($6.347 million) both came with belly putters, and one of the game's icons, Phil Mickelson, experimented with a belly putter near the end of the season. Judice said his sales increased nearly four-fold in the week following Bradley's PGA victory.
"Originally my target market was maybe three percent of all golfers," Judice said. "There was such a small segment of players using or considering using belly putters. Now there's no stigma attached since they've become so popular, and now my target audience may be as high as 50 percent."
"Belly Putt" sales also increased dramatically through Golfballs.com, which was the first major golf equipment outlet to feature the "Belly Putt." The original "Belly Putt" promotional video is the most viewed video on Golfballs.com's YouTube channel and is also available for viewing on the company's web site.
"We probably sold 1,000 within the last month," Cox said, "and probably 400 within the last week. We're selling them every day and the business is climbing. Google's search traffic for the phrase "belly putter" has grown 900 percent over the last 90 days."
Judice, a native of Lafayette, La. – the corporate home of Golfballs.com – is an engineer and a part-time inventor who has dabbled in other golf-related equipment. But it was his own putting troubles that led him to find a way for the average golfer to try the longer putter without the expense of buying a completely new club.
"He basically took oilfield technology and repurposed it for the golf industry," Cox said. "It's very similar to what's used in down-hole technology. It's a very functional and useful device, and the quality of the engineering and the packaging is outstanding."
The conversion process takes only a couple of minutes, and the putter can be returned to its original length in the same amount of time. The other key to its success is affordability, with the $39.95 retail price for the conversion kit and all necessary tools comparing to belly putters that can easily run into the hundreds of dollars, especially those custom-made for a player's body type and height.
The combination of quality and affordability, along with the recent and rapid increase in belly putter interest, did cause a brief period when demand outstripped supply. "For a while we couldn't keep them in stock," Cox said. "We were out of inventory, but now we're always able to get them into the hands of our customers quickly and efficiently."
The "Belly Putt" conversion kit is available for immediate purchase through the Golfballs.com site, which is known across the industry for its ease of making selections and ordering and its devotion to quality customer service.
###