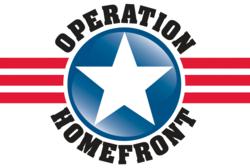 On behalf of those who sacrifice so much for us, we thank Harris Teeter for its generous support.
Charlotte, NC (PRWEB) November 15, 2011
What:
Harris Teeter, MillerCoors to Host Operation Homefront Thanksgiving Feast for Military Families
400 Military Families to Receive Complete Holiday Dinner
When:
Tuesday, Nov. 22, 2011
10:30 a.m. – 12:30 p.m.
Where:
Washington D.C. National Guard Armory
2001 E Capitol St SE
Washington, DC 20003-1719
Ph: (202) 433-5175
Interviews with military personnel and participating families are available. Live shots are welcomed!
Tuesday, Nov. 22, 2011, families of DC National Guard members will arrive at the DC Armory to greet a Harris Teeter tractor trailer filled with traditional holiday dinners. Thanks to the support of MillerCoors and Operation Homefront, Harris Teeter is providing 400 families – many of which have loved ones deployed to Iraq and Afghanistan over the holidays – with fully prepared turkey dinners plus all the fixins.
Representatives from Harris Teeter will also be on hand to receive thanks and commemorative coins from the commander of the DC National Guard, General Errol R. Schwartz and leaders of the Guard's Family Readiness Group.
"Times are tough for our military, and multiple deployments, on top of a bad economy, have made it especially hard for their families," said the president of Operation Homefront's DC Metro Chapter, Vivian Dietrich. "On behalf of those who sacrifice so much for us, we thank Harris Teeter for its generous support."
Harris Teeter would also like to thank MillerCoors for making the distribution of meals to Operation Homefront possible.
About Harris Teeter
Harris Teeter Inc. with headquarters in Matthews, N.C., is a subsidiary of Ruddick Corporation (NYSE:RDK), a Fortune 500 company. Harris Teeter is the 24th largest supermarket in the U.S. with 2011 sales of $4.29 billion. The grocery store chain employs over 24,000 associates and has 206 stores in North and South Carolina, Virginia, Georgia, Tennessee, Maryland, Delaware, Florida and the District of Columbia.
###