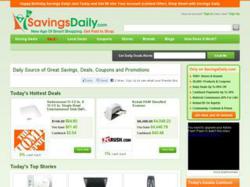 Access the SavingsDaily.com and browse through hundreds of deals and discounts before they expire.
(PRWEB) November 14, 2011
Travel has never been easier than it is with SavingsDaily.com. Through this website consumers can find deals and coupons for events and attractions in several major cities. For those who want to travel to or live in Boston, Chicago, Dallas, Houston, Las Vegas, New York or Phoenix tcan take advantage of the numerous deals available in these cities.
Planning a family vacation can be expensive but it doesn't have to be with help from SavingsDaily.com. The website features a variety of discounts on sporting events, fitness classes, spa treatments and lodging. Enjoy 50% off a one night stay in New Mexico or enjoy a gourmet meal at restaurant Fifty South in Ballston Spa, New York. The possibilities are endless when site members choose to purchase deals from SavingsDaily.com. In addition to great discounts on area attractions and merchants, the website also offers cash back on many purchases as well as online coupons. With the cash back program anyone can get paid to shop. Bonuses are available on various items that are offered on the website with cash back rates up to 15%.
For those who are looking for a better way to explore own city then SavingsDaily.com can help with that too. Enjoy 76% off a therapeutic massage in Achorage, Alaska or 61% off 18-holes of golf and lunch in Atlanta, Georgia. Saving money has never been easier than it is with this website.
In addition to great online deals on things to do in various cities around the United States, SavingsDaily.com also offers coupons and discounts on electronics, computers, clothing, accessories, home and garden products, items for babies and jewelry. The company works with a variety of popular website including Zappos.com, BestBuy.com and Gap.com. SavingsDaily.com is the best site for gift shopping as well. Never fear that expensive toy the child wants for his birthday or Christmas, with this website everyone can find one of kind deals on the must-have items on her list.
Access the SavingsDaily.com website to browse through hundreds of deals and discounts before they expire. Visitors can sign up for an account for free and start earning cash back on all purchases as well as receive daily updates on the newest coupons and those that are about to expire.
###