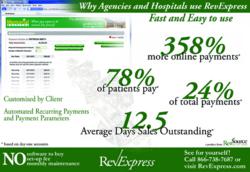 With so many payments now being made online, it was important for us to find a solution that would meet our clients' need to offer this option to their customers. RevExpress proved to be the right solution for meeting this need."
Muncie, IN (PRWEB) November 15, 2011
RevSource™ Solutions, LLC (http://www.revsourcesolutions.com, Muncie, IN), a leader in innovative, personalized online payment solutions for revenue maximization, and PCI Group (http://www.pcigroup.com, Fort Mill, SC), one of the nation's leading document delivery and rapid outbound mail service providers, have formed a partnership whereby PCI will now be offering its clients an online payment option for their customers, debtors or end-users. Specifically, PCI will be enabling its customers, which include collection agencies and collection law firms, financial and healthcare institutions and utilities, the option to use RevSource's RevExpress™ payment product – a powerful, personalized, automated online payment option.
According to PCI Group President and CEO Chris Kropac, Jr., "We are always looking to bring more value to our client relationships, by expanding our portfolio of services and solutions. With so many payments now being made online, it was important for us to find a solution that would meet our clients' need to offer this option to their customers. RevExpress proved to be the right solution for meeting this need."
"We are excited about this partnership with PCI Group," said Paul G. Smith, President, RevSource Solutions, "By joining forces, we are able to seamlessly deliver RevExpress as the secure, online payment solution."
RevExpress offers companies and their customers the best of all worlds. It is fast and easy, and accelerates revenue without adding staff or incurring any overhead costs. The solution also was designed for branding optimization, allowing companies to place their logo/brand image or that of their clients, thereby advertising for themselves or their clients, concurrent with achieving accelerated payments.
In operation, RevExpress takes customers directly to their own personalized website which has been pre-populated with their account and payment information. At this site, they can make payments via credit card, debit card or check, as well as update their personal information. Once a payment is made, a confirmation is emailed and the money is deposited directly into the company or company's client's account. If a customer does not make a payment, the company receives an email as soon as the customer logs off to allow the company to promptly follow-up with a call. RevExpress works with receivables of any size balance and any type of credit or debit card and checking account.
About RevSource Solutions, LLC
RevSource Solutions, LLC specializes in providing innovative, integrated solutions to maximize your revenue. RevExpress is the fast and easy to use patent-pending, personalized, automated payment solution which delivers revenue more efficiently and effectively. The solution is idea for healthcare institutions, collections/first party, collection agency, collection law firms, billing companies, utilities, financial institutions, and charities. For additional information, visit: http://www.revsourcesolutions.com
About PCI Group, Inc.
PCI Group Inc. is a family-owned and operated business founded in 1970. The company provides comprehensive document delivery services by rapid outbound postal mail, email, fax or digital mailbox delivery. Recognized as the industry innovators, the nationally-ranked and multi-award winning PCI applies leading-edge technologies, many of which are proprietary to the company, to deliver outstanding customer value. PCI's customers benefit from improved business processes, optimum data integrity and security, exceptional quality controls, maximum economies, real-time, web-based tracking through all stages of their mail's production and handling, and flexible, customized services. PCI's 93,000 square foot facilities are company-owned and state-of-the-art featuring card key access, handprint scanners, digital camera security systems, CCTV monitoring, self-contained U.S. Postal Service plant loading facility, diesel back-up electrical generator, full-building UPS battery back-up system and CPU room equipped with Halon fire suppression system. For more information about PCI Group, visit: http://www.pcigroup.com.
Media Contact:
Paul G. Smith
765/744-3443
pauls(at)RevSourceSolutions(dot)com
###