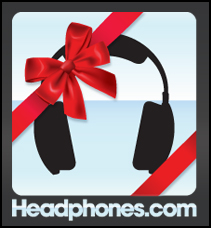 South Hackensack, NJ (PRWEB) November 15, 2011
Headphones.com, a leading online retailer for headphones and headphone accessories is has published an online gift guide for the top 10 headphones for the 2011 holiday season. Buyers commonly find it difficult to buy a headphone for someone else because sound is a very personal preference, it is not heard exactly the same from one user to the next. Now the purchasing process is easier with detailed descriptions of the top ten headphones available this holiday season.
Ten of the top headphones were chosen to be featured in the list, ranging from stylish celebrity endorsed headphones like the SOUL by Ludacris SL150 to the Beats by Dr. Dre Pro headphone. Also included in the list are the Able Planet XNC230P headphones, a plaid noise cancelling headphone which has received very high reviews, and is available in 5 different colors.
Gamers this season are excited with the release of the Turtle Beach XP500, the first completely wireless headset for the Xbox360. Boasting 7.1 surround sound, Bluetooth which also connects to mobile phones, and a full set of available sound customizations, the XP500 is sure to please any gamer.
Those looking to give a wireless headphone for TV will be interested in checking out the LTB Q-Home-FX, Headphones.com's best selling television headset. This headphone is built with 5.1 surround sound and includes all available audio inputs, even digital audio! Be sure to check the complete Holiday Gift Guide for the full list of recommended headphones.
Headphones.com is part of the AlltecStores network. The AlltecStores network consists of several specialty e-tail websites focusing on audio-visual and technology products. It's main website, AlltecStores.com is parent to several others e-commerce sites, including Headphones.com, ProjectorScreenStore.com, AllCartStore.com, PodiumAndLecternStore.com, AllWhiteboards.com, ProjectorBulbsandLamps.com, NationalAVSupply.com and more. Manufacturers interested in having their products on Headphones.com should contact pr(at)headphones(dot)com. For more information visit http://www.headphones.com
###