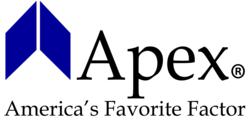 We believe that we never lost our passion for serving small
Fort Worth, TX (PRWEB) November 16, 2011
Apex Capital, America's Favorite Freight Factoring Company, announced today that it is leasing additional office space with options to continue expansion in the future. The additional space will accommodate future hiring needs necessary to maintain Apex's standard of service for a growing client base.
This is an exciting time for Apex Capital with innovative plans for the upcoming year. David Baker, President and founder of Apex Capital states, "We've come a long way from the 320 sq. ft. office we started in 16 years ago. I believe that we never lost our passion for serving small trucking companies and our growth over the years, especially in our current economic environment, reaffirms our commitment to great service."
In 2007 Apex began utilizing the 21,000 sq. ft. of the tenth floor. Over the years, secure employment combined with continued strategic hiring and expanding services have facilitated this decision.
Renovations began last month and are projected to be completed at the beginning of the year. The owners and employees alike are proud to see Apex not only thrive, but grow in this economy.
ABOUT APEX CAPITAL
For over 16 years, Apex Capital, based in Fort Worth, Texas, has been a leader in providing freight bill factoring services for the trucking industry. Over the years our company vision has remained the same; to be known for the legendary service we provide, the value we create, and the flawless execution we deliver. We want to provide more than just cash for our clients. To us, it's about the service and most importantly the relationship. Apex is different and it's our people that make us different. We value honesty and integrity as much as the freight bills we buy. That's one of the many reasons we've been voted as America's Favorite Factor and have been one of the top companies to work for in Texas for 4 years. For more information call 800.511.6022 or visit http://www.apexcapitalcorp.com.
###