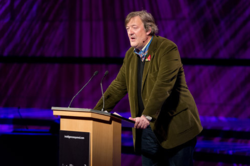 San Francisco, CA (PRWEB) November 14, 2011
At this historic Intelligence2 event on Wednesday, Nov. 9 – which was live streamed exclusively around the world on FORA.tv – Stephen Fry (who described Hitchens as 'a hero of the mind') was joined on stage in London by Richard Dawkins at Southbank Centre's Royal Festival Hall, Sean Penn was beamed in from LA, while Christopher Buckley, Salman Rushdie, Lewis Lapham, Martin Amis and poet James Fenton spoke live via satellite from New York.
Complete video of this event event is available for viewing on demand on FORA.tv at: http://fora.tv/conference/hitchens_fry, until Saturday, November 19.
Fry delighted the crowd by reading emails from Hitchens' wife Carol and friend Ian McEwan throughout. One particularly poignant update from McEwan on his sick friend read: 'He can't run a mile right now but be reassured that his Rolls Royce mind is purring smoothly'.
Other crowd pleasing moments came from best friends Martin Amis and Salman Rushdie both of whom spoke of his astonishing capacity for friendship and loyalty. According to Amis their relationship "was like an unconsummated gay marriage...although Christopher, some time ago, would have consummated it very happily."
Rushdie drew roars of laughter when he recounted a word game invented with Hitchens, known as 'book titles that didn't quite make it.' Favorites included Toby Dick and The Catcher in the Wheat. The laughter continued when he told of their other pastime of replacing the word 'love' with 'hysterical sex'. Hysterical Sex in the Time of Cholera was an especially pleasing example.
On stage, Richard Dawkins praised Hitchens' disregard for causing offense, proclaiming "let's stop being so damn respectful!"
Other highlights included, Sean Penn streamed in by Google+ from LA puffing on a cigarette ('I hope you don't mind if I smoke') while reading an extract from Hitchens' book 'The Trial of Henry Kissinger'. Christopher Buckley fondly recalled a particularly wild Vanity Fair party Christopher hosted where Barbara Streisand caught fire. Lewis Lapham discussed his courage as a young hack, admiring Hitchens as 'the only journalist in Washington that would bite off the hand that fed him'. James Fenton recited his magnificent poem 'The Skip' at Hitchens' request.
The event was watched live in London by an audience of more than 2,500 people. Thousands more watched live in cinemas across the UK and online globally through FORA.tv.
Photographs from the event are found online at: http://www.flickr.com/photos/mediasyn/sets/72157627971057313/
Photo Credit: Michael Eleftheriades
About Intelligence²
Intelligence² has built a global reputation for staging live talks and debates on the most important political and cultural issues of the day. They have carved a niche in intellectual adventure, producing dazzling live events which attract sophisticated opinion formers week in week out. Their speakers are world experts, and they work with numerous media partners to extend the reach of their events, including the BBC who regularly broadcast Intelligence² events to a worldwide audience of 70 million viewers.
"The debates, pioneered by Intelligence², really make a contribution to the life of the nation...The ripples move out, the ideas in the debate spread into radio and the newspapers." - The Observer.
About FORA.tv
FORA.tv is the leading online destination for video programs from the world's best conferences and events. With more than 10,000 free and fee-based videos, FORA.tv has the web's largest collection of programs that feature the people, issues, and ideas changing the world. FORA.tv helps hundreds of organizations including the Aspen Institute, the Economist, the New York Public Library, and Wired expand the audience for their events. FORA.tv has been named a Top 50 Web Site by TIME, and a Top Education Site by The Telegraph. FORA.tv is funded by a select group of investors led by William R. Hearst III and is based in San Francisco. For more information, visit http://fora.tv.
Intelligence2 Press Contact:
Kit Cockburn, Phone: 0207 221 1177
kit.cockburn(at)intelligencesquared(dot)com
FORA.tv Press Contact:
Rob Flynn, Phone: 202-677-5008; rob(at)fora(dot)tv
###