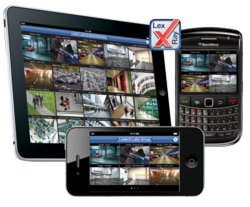 Lisle, IL (PRWEB) November 14, 2011
Lextech Labs, the industry leader in easy to use mobile video solutions, has launched LexRay, the secure, lag free mobile video platform. The new solution includes a server component that secures the video stream from end to end and optimizes the video for the ultimate mobile viewing environment, meaning no lag.
In real world video surveillance environments, cameras operate on a collection of different video management systems. Lextech Labs has answered that challenge with LexRay. Now users can easily view video from different video sources, even from different vendors, on the same screen. No other mobile platform has that capability.
Lextech Labs is releasing LexRay as an open mobile video platform. This enables every VMS, camera or specialty video provider to quickly integrate their video into the LexRay mobile system.
"Lextech Labs is revolutionizing the mobile video world for the third time. We invented easy to use mobile video with iRa Pro, C3 extended that capability to teams and now LexRay provides secure, lag free, multi VMS video. LexRay gives teams video that just works." said CEO Alex Bratton.
For more information on Lextech Labs and their products, visit the website at http://www.lextechlabs.com/products/lexray.
Lextech Labs, based in Lisle, IL, is a provider of mobile solutions allowing video to be instantly delivered to mobile devices. The company was a winner in the Best New Technology Product of the Year category of the 2010 Edison Awards. Lextech Labs' products include the LexRay and C3, complete server and mobile applications for Apple and Blackberry platforms and computer web browsers. The company's customers include federal agencies, law enforcement, universities and convention centers.
###