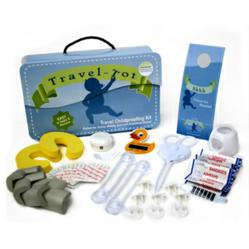 Our childproofing kit is a must-have product for every property that wants to be family-friendly.
Denville, NJ (PRWEB) November 14, 2011
Travel-Tot, LLC announced today an exclusive agreement to sell its award-winning Travel-Tot Childproofing Kit to American Hotel Register Company, which will offer the kit in its upcoming 2012 - 2013 Buying Guide. Lodging providers worldwide are looking for ways to make their properties more family-friendly, and as customers of American Hotel, they look to the world's premier hospitality supplier for products that can help them accomplish this.
The Travel-Tot Childproofing Kit is the first of its kind – an all-in-one kit that provides everything needed to temporarily childproof an average hotel room. The 33-piece kit is an easy-to-use solution that will not damage guest rooms, and most importantly, helps to ease traveling families' room safety concerns. The kit includes a finger pinch guard, electrical outlet plug covers, foam corner guards, a doorknob cover, a cord wind-up reel, a sliding door lock, a cabinet lock, multipurpose straps, a water thermometer, bandages, a forehead thermometer, and even "Shhh, (Travel-Tot Sleeping)" door hanger.
Special adhesive strips are provided in the kit for those items requiring installation. The strips go on strong, yet come off clean when it is time to remove them. While no childproofing device can replace adequate parental supervision, the Travel-Tot kit components provide an extra level of protection for children against hazards that can result in injury.
Jim Korompilas, Director of Consumables at American Hotel, is excited about this new partnership: "Travel-Tot has developed an innovative product that will be a tremendous asset to traveling families, making their hotel stays as enjoyable as possible while addressing some safety concerns. As hotels continue to look for ways to differentiate themselves in a competitive marketplace, offering family-friendly services and solutions, such as these childproofing kits, is a great way for them to cater to leisure travelers, and for American Hotel Register Company to provide the products that will help our customers succeed."
"Having American Hotel select our product for their catalog has been one of our goals, since they are the lodging industry's premier supplier," said Tom Bergstrand, Chief Executive Officer of Travel-Tot. "Our childproofing kit is a must-have product for every property that wants to be family-friendly."
About American Hotel Register Company
As the premier supplier to the hospitality industry for 146 years, American Hotel Register Company serves business customers worldwide. Offering both operating supplies and equipment and furnishings, fixtures and equipment, American Hotel is the industry's only total solution. The company expands its reach through its extensive sales force, Buying Guide and website, americanhotel.com. Company divisions include Education, FF&E Solutions, Government, International, American Funeral Supply Company, American Health Care Supply and Canadian Hotel Supply. Distribution centers are located in California, Florida, Hawaii, Illinois, Nevada, New Jersey, Texas, Washington, Canada and Puerto Rico.
To learn more about American Hotel Register Company and its divisions, products and services, or for a copy of the 2011/2012 Buying Guide, call 800.323.5686, or visit http://www.americanhotel.com.
About Travel-Tot
http://www.travel-tot.com launched in January 2010 with the goal of developing tools and resources to help families with their travel needs. Putting the categories of travel, safety and children together has been instinctive for the founders of Travel-Tot. Not only do they vacation frequently with their two young children, but Wendy Bergstrand, COO, is a member of the Association for Child Safety (IAFCS). Travel-Tot is devoted to the safety of children when they travel with their families and the Travel Childproofing Kit is just one of the services they bring to the public. The website, http://www.travel-tot.com is a friendly, hands-on resource for family-friendly travel information. The blog, travel-tot.blogspot.com also provides expert travel and safety articles and advice.
###