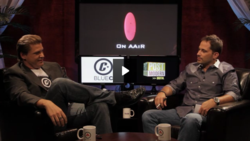 "Our approach, whether it be for a motorcycle company or an orthodontic client is to understand that all targets are enthusiasts about brands." - Paul Schmidt, Director of Account Services, Blue C
Costa Mesa, California (PRWEB) November 13, 2011
Blue C, a full-service integrated marketing communications company in Costa Mesa has been making a lot of noise over the past few months, both within the industry and amongst their clients. Showcasing a portfolio that includes clients such as Monster Energy, SCORE International, Maxxis Tires and the recently awarded Juice It Up!, the company has been balancing it's award-winning creative with an adaptive strategic approach that continues to build successes within the ever-changing landscape of marketing communications.
Paul Schmidt, Blue C's Director of Account Services and lead strategist, recently was invited to sit down with the crew of OnAAiR to discuss the firms approach to remaining on top of their game, both with clients, as well as the industry. OnAAiR (which stands for Arts Advertising in Review) is a weekly web show that airs both online, as well as on Cox Channel 3 and which showcases some of Southern California's leaders in the fields of advertising and arts.
"We really are known for our ability to tap into the mindset of enthusiast targets and develop messaging which resonates to their lifestyle," says Schmidt, referring to Blue C's history within the action sports industry. "But the key is to carry that philosophy into all our segments, not just action sports. Our approach, whether it be for a motorcycle company or an orthodontic client is to understand that all targets are enthusiasts about brands and it is our focus to develop messaging that directly impacts their lifestyle."
Marcus Vadas, the host of OnAAiR had interviewed Blue C before, with the focus always being on Blue C's charity work. This time however, Vadas was thrilled to have a chance to look at the structure behind the firm:
"It really was an opportunity for us to understand how they have remained successful within an industry that is experiencing tremendous daily change," says Vadas. "While other firms have become pigeon-holed, the team at Blue C have developed an approach that keeps them from being segmented, thus giving them the ability to bridge multiple market segments."
The video, which aired at the end of October is available on the Blue C website (see it here).
Blue C is located at 3183 Airway in Costa Mesa. For more information on Blue C, or to see how they can help your brand, call directly at 714-540-5700 or visit them on the web at http://www.bluecusa.com.
# # #