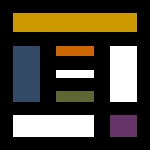 Theta Music puts the FUN back in ear training
Tokyo, Japan (PRWEB) November 17, 2011
Theta Music Technologies announced today that the 2nd Annual Theta Music Winter Competition will be held on January 11, 2012. This competition gives musicians a chance to win prizes by playing a series of music skill games for online ear training and music theory practice. The games are designed to challenge and sharpen skills of basic musicianship - recognizing tones, chords and rhythms by ear, understanding basic patterns and relationships, and distinguishing between subtle differences in pitch, volume and tone color.
The competition will begin at 11:00AM Japan time on January 11 and continue until 11:00AM on January 12. During this 24-hour period, players from around the world will be able to choose three games from among the 25 music skill games on Theta Music Trainer. During the competition, players may play any level of the three chosen games one time each. The player's score for the competition will be the sum of the scores from the three games.
Amazon gift certificates will be awarded to the players with the five highest total scores at the end of the 24-hour period. First prize will be a $30 gift certificate, followed by $25 for second place, and so on down to $10 for the fifth-place finisher. The competition is open to everyone around the world, and there is no charge to enter. The only requirement is that participants must have at least a free account on Theta Music Trainer.
About Theta Music Trainer:
Theta Music Trainer is a complete set of online games designed for improving musicianship. Launched in October 2010, Theta Music Trainer provides musicians of all levels with a deeper understanding of music and a stronger ability to play music by ear. The music training games are classified into four categories: melody, harmony, rhythm and sound. Each game is divided into twenty levels of difficulty. Game scores are recorded and players may check their results and progress reports at any time.
Theta Music Trainer was created with the purpose of injecting an element of fun and excitement into a musician's daily practice routine. Rather than simply doing the same drills over and over, the training is based around a set of 25 different games, each designed to strengthen a particular area of musicianship. For example, one game helps the student become familiar with the tones of major and minor scales, while another game trains the student to recognize different types of intervals. The variety and pacing of the games are designed to hold the interest and attention of students as they practice a wide range of musical skills.
Since its release in October 2010, Theta Music Trainer has been widely praised among music educators and independent music teachers alike. "Theta Music puts the FUN back into ear training," says George Brodbeck of Ear Training Online. Thomas West, a prominent teacher and clinician at the Center for Performing and Fine Arts in Philadelphia, writes that the games are "engaging, entertaining, and get kids to listen closely in graduated levels of difficulty." Jeremy Boggess, Director of Mastering Music, calls Theta Music Trainer "the first ear training software that has blown me out of the water." In January 2011, Theta Music Trainer was selected by radio personality Kim Komando as one of her 'Cool Sites'.
About Theta Music Technologies:
Founded in 2003, Tokyo-based Theta Music Technologies is a leading developer of games and applications for music learning and musical skill training.
###