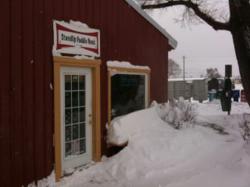 It's really fun to connect with paddlers in other places
Bend, Oregon (PRWEB) November 21, 2011
Although Stand Up Paddle Flatwater's flagship store, Stand Up Paddle Bend, is located in Bend, Oregon, where conditions are too cold for all but hardcore paddlers from October to May, its owners say the pace doesn't really slow down in winter. "We just shift focus to our out of town customers," says owner/operator Chip Booth.
"As soon as the weather starts to cool down, most people around here start thinking about skiing and snowboarding. They forget about SUP," says Booth. Luckily Stand Up Paddle Flatwater's customer base is much bigger than Bend. Booth says he and his staff routinely ship both big (including fourteen foot race boards) and small items all over the country. "It's really fun to connect with paddlers in other places," says Booth.
The lead-up to Christmas is an especially busy period. To help shoppers out, the Stand Up Paddle Flatwater website features an SUP holiday shopping guide that categorizes products by price, ability level, area of interest, and gender. Items range from low-price stocking stuffers such as stickers and DVDs to high-ticket show stoppers like a board and paddle set.
Stand Up Paddle Flatwater will also be rereleasing their popular SUP Christmas cards which feature Santa Claus stand up paddling on the Deschutes River in picturesque Bend, Oregon. They will also be offering special holiday discounts on certain items, including KIALOA paddles.
"People around here always ask us if we shut down in winter," says Booth. "Far from it. We're as busy in winter as we are in the summer, just in a different way."
###