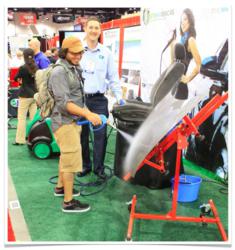 Steam car wash has become synonymous with eco-friendly car wash.
(PRWEB) November 12, 2011
Last week SJE Corporation and Steamericas demonstrated the Optima Steamer at the 2011 SEMA Show. The SEMA Show is the nation's largest automotive trade show. In front of thousands of attendees SJE Corporation demonstrated the cleaning capabilities of the Optima Steamer.
For lovers of all things automotive, the SEMA Show is the event to attend. Over 2000 exhibitors showed off the latest in customized parts and equipment, detailing products, specialty tools and more. Hundreds of modified cars with custom paint jobs were on display both inside and outside the Las Vegas Convention Center.
The Optima Steamer could be found in the tools and equipment section. The Optima Steamer is a revolutionary new steam machine that cleans vehicle exteriors and interiors, minimizing vehicle wash time and chemical and water consumption. At the 2011 SEMA Show attendees were able to test and explore the Optima Steamer's cleaning capabilities on a vehicle hood and seat. In the U.S. steam car wash is an entirely new industry. The goal of SJE Corporation was to demonstrate the cleaning power of the Optima Steamer and to debunk any myths associated with cleaning vehicles with steam.
The Optima Steamer made its debut in the U.S. last year. Prior to SJE Corporation establishing a U.S. branch in California, the Optima Steamer has been a success in both Europe and Asia. The growing demand in the U.S. for cost effective and environmentally friendly cleaning equipment paved the way for the arrival of the Optima Steamer.
In the auto industry the Optima Steamer is used to steam clean both vehicle exteriors and interiors. An adjustable moisture control enables operators to apply a dry steam for interior cleaning and a wet steam for cleaning exteriors and undercarriages. The Optima Steamer is ultimately a tool that reduces vehicle wash time. For instance, an operator can steam clean the exterior, door jambs, interior windows, dash board, and perform spot stain removal in one continuous motion; all without having to slow down or switch tools.
Steam car wash is a rapidly growing industry. It has become synonymous with eco-friendly car wash. Cleaning with steam vapor minimizes both water and chemical consumption. Steam also sanitizes on contact without chemicals, providing a safer environment for vehicle occupants.
The Optima Steamer is available in the U.S. through Steamericas Inc., the U.S. branch of SJE Corporation. To learn more about the Optima Steamer, contact Steamericas today at (310) 327-8900 or by visiting http://www.steamericas.com. Steamericas is actively looking for organizations to distribute the Optima Steamer throughout the U.S.
###