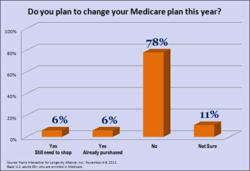 It is great news that so many people know that Medicare open enrollment ends Dec. 7. However, many Medicare beneficiaries may be missing an important opportunity to review their plan for 2012.
Chandler, AZ (PRWEB) November 14, 2011
Medicare beneficiaries know that the open enrollment is ending earlier this year, and many are not planning on shopping for a new Medicare plan, according to a study by Harris Interactive for Longevity Alliance. That's a mistake since comparing plans can save money on health care costs, warns Longevity Alliance.
More than 9 in 10 (92%) of Medicare beneficiaries said they know that open enrollment ends Dec. 7. But just 12% say they plan on taking or have already taken advantage of the opportunity to change plans, according to a national survey of U.S. adults age 65+ who were identified as Medicare beneficiaries. The study was commissioned by Longevity Alliance and conducted online by Harris Interactive in November 2011 among 310 U.S. adults age 65+ of which 302 are currently enrolled in Medicare.
"It is great news that so many people know that Medicare open enrollment ends Dec. 7. However, many Medicare beneficiaries may be missing an important opportunity to review their plan to make sure it is the right plan for their health care needs now," said Joseph Volpe, President and CEO of Longevity Alliance. "By comparing and switching to a different Medicare plan, some of our customers find they can save hundreds of dollars a year in health care and prescription drug costs. Others confirm that after reviewing their options with a Longevity Alliance health plan advisor they feel confident that they have the right plan for 2012."
When asked if they knew that this year's Medicare open enrollment dates had changed, 92% of those surveyed who are currently enrolled in Medicare responded that they know open enrollment ends Dec. 7 this year.
When asked about their intent to change plans this year, more than 78% of those surveyed who are enrolled in Medicare said they did not plan on changing their plan this year. Additionally, the research found, 6% said they have already purchased a new plan, another 6% said they still need to shop for a plan, and 11% are not sure whether they will change their plan this year.
"We hope that many of those who say they are not comparing Medicare plans this year, will decide to take advantage of the Medicare open enrollment period and shop and compare plans," Volpe states. "Longevity Alliance offers free consultation and advice on Medicare health insurance plans and it is done over the phone so there is no intrusion into a person's home. And for those who prefer to compare Medicare health plan rates themselves we have added an online Medicare quoting tool to our website at iQuote.com."
Longevity Alliance offers these three (3) tips for those who compare Medicare plans before the open enrollment period ends December 7.
1. Look beyond the monthly premium. Make sure you calculate the cost of any deductibles and co-payments into the total cost of your health care under the plan.
2. For prescription drug plans, make sure the drugs you take are on the formulary (list of drugs and how the plan covers them) and what tier they are in (how much you will pay.)
3. Compare plans from several companies, not just one, so that you can feel confident that you found the right plan for your health care needs in 2012.
These three tips are just a few of the things you can have done for you when speaking to Longevity Alliance's Health Plan Advisors or going to their website http://www.iQuote.com.
Survey Methodology
This survey was conducted online within the United States by Harris Interactive on behalf of Longevity Alliance, Inc. from November 4–8, 2011 among 310 adults age 65+ of which 302 are identified as being enrolled in Medicare. This online survey is not based on a probability sample and therefore no estimate of theoretical sampling error can be calculated. For complete survey methodology, including weighting variables, please contact Laura Rossman at 301-651-0109.
About Longevity Alliance and their website iquote.com
Longevity Alliance is an independent national insurance broker that helps people find the right insurance solutions for their Medicare, long-term care and life insurance needs. Longevity Alliance is licensed to sell insurance in all 50 states and the District of Columbia.
Each consumer who calls receives the free service of a personal health plan advisor who guides them over the phone through a simple 3 step process designed to make them feel confident about their insurance options and choice and will help them to enroll in the right plan for them, as we say: We Inform & Educate; Advise; and Enroll.
Based in Chandler, Arizona, and with operations centers in Chandler and the Philadelphia, PA area Longevity Alliance has helped thousands of Medicare beneficiaries and their families find the right Medicare supplemental insurance or Medicare advantage plans, as well as helping them with their long term care and term life insurance. At the company's website iQuote.com consumers can find information about Medicare, request a quote for Medicare health plans in their area and get Medicare health plans quotes and enroll online in many popular Medicare Advantage and Medicare Part D plans.
###