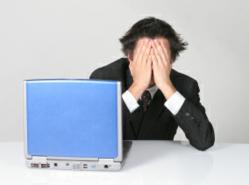 We have seen a significant increase in cases where companies have contacted us because an ex-employee, usually someone who has been fired or left under stressful circumstances, has posted disparaging comments online.
Los Angeles, CA (PRWEB) November 15, 2011
Leading online reputation repair company now offers a specific service to assist businesses in dealing with negative comments and articles written by ex-employees who have a gripe with the company, or the company's management. Online Reputation Management founder Ed Eshel commented, "We have seen a significant increase in cases where companies have contacted us because an ex-employee, usually someone who has been fired or left under stressful circumstances, has posted disparaging comments online". The comments can be found on a range of different websites, from industry related sites, to social forums, to blogs and so on.
Online Reputation Management deals with such cases with a range of methods tailored to suit the specific needs of the case. Usually the most immediate concern is to remove the negative comments. Once this is achieved, the focus shifts onto maintaining the absence of such remarks, and developing various marketing and SEO techniques to ensure that the company is shown in a positive light when searched for in the main search engines. Online Reputation Management has extensive experience and expertise in SEO for all the main search engines, including Google, Bing, and Yahoo.
An established and reputable media company based in Texas recently utilized the services of Online Reputation Management to combat a particularly fierce online attack by a discontented ex-employee. The head of human resources commented, "This employee felt he was wrongly dismissed. Shortly after leaving the company he started posting many negative comments and mini articles literally slandering our company and the management". A significant part of our personnel are recruited from a local pool of graduates, and being from this group himself, as well as being very knowledgeable with the Internet, he was able to make sure his comments were viewed by exactly whom he wanted – our potential employees".
The company had noticed a decline in applications for various graduate positions, but it was actually brought to their attention by a candidate who raised concerns at the interview regarding some of the things he had read online. Further probing and some research online soon showed what was happening and that one source was responsible. The head of HR remarked, "Like most companies, we know our success depends on our staff. We target high caliber individuals to drive our company forward, and such online slander can be detrimental to our success".
Online Reputation Management worked with the company and managed to remove almost all the false negative posts and articles. They then proceeded to develop strategies with the human resources and online marketing teams to ensure that a positive and honest profile of the company was portrayed and maintained online. "We wanted to make sure that potential candidates who searched our company online would view a complete, honest and positive profile of the company. From there it is that individual's decision to continue with the application process, should they be interested in working for us. It would be a shame for both our company and the potential recruit to miss out, based on false information posted by one particularly bitter person".
Companies such as Online Reputation Management are finding that such scenarios are becoming increasing common. These days almost all company research by potential employees is performed online. Thus businesses need to ensure that their online profile remains positive and informative, and readers are not distracted with negative – especially false negative – information.
About Online Reputation Management
Online Reputation Management provides effective and tailored solutions for companies and individuals who are looking to repair, enhance or manage their online profile or reputation. Online Reputation Management uses a variety of effective tools to ensure that your company's brand is promoted online effectively and that search engine results will be geared towards positive reviews and information rather than false results and negative spam. Working mostly for established US based companies and recognized individuals, Online Reputation Management has an extensive track record of successful online reputation repair campaigns. Their expertise lies not only in repairing online reputations, but also maintaining them, and passing on to their clients the tools they need to ensure that their online reputation remains intact and is not effected by any negative, often false information online.
Online Reputation Management
923 Euclid Street
Santa Monica, CA 90403
http://www.online-reputation-management.us
###