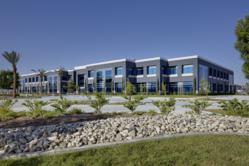 The need for a highly trained workforce has never been greater in this economy, and I'm excited and thrilled to be supporting established industries and providing further growth in jobs for the great city of Riverside
Riverside, CA (PRWEB) November 14, 2011
Platt College announced today the opening of its third campus location in Riverside, CA, in the heart of the Inland Empire. The new Riverside location joins the College's existing Southern California campuses in Los Angeles and Ontario, CA.
The new Riverside location is conveniently located on Sycamore Canyon Boulevard, near the intersection of the 60 and 215 freeways. The campus will offer a selection of Associate and Bachelor degree programs focused on high-demand career fields. Program offerings include: Diagnostic Medical Sonography (Ultrasound), Veterinary Technology, Medical Assisting, and Medical Administration at the College's School of Medical Sciences; Criminal Justice and Paralegal Studies at the College's School of Legal Studies; Graphic Design and Visual Communication specializations in 3D Animation, Web Design, or 2D Print, at the College's School of Graphic Design.*
The modern facility occupies 23,000 square feet of custom, newly-built Class A space, including modern classrooms, computer, design, and medical labs, a library, student lounge, and administrative space. Free on-site parking is available for all students, and shopping centers and restaurants are conveniently located minutes away from the campus.
Our Los Angeles and Ontario locations have successfully served their local communities for over 25 years, and we are proud to expand our educational services to the city of Riverside and the surrounding communities. "The opening of our newest campus will not only provide students with an enhanced education, but it'll also help meet the staffing needs of community employers in the fields of healthcare, criminal justice and paralegal services, and graphic design. These are the types of opportunities that we're proud to bring to the city of Riverside," said Campus President, Manuel Barrios. "The need for a highly trained workforce has never been greater in this economy, and I'm excited and thrilled to be supporting established industries and providing further growth in jobs for the great city of Riverside."
Platt College Riverside is now accepting applications for all offered programs. Interested students may stop by the campus at 6465 Sycamore Canyon Boulevard, contact the campus through the College's website at http://www.plattcollege.edu, or call at 855-707-5288.
Established in 1985 and now located in Los Angeles, Ontario and Riverside, California, Platt College also offers other career focused programs in its Medical, Legal, and Graphic Design schools. The College is nationally accredited by ACCSC, and financial aid is available to those who qualify. Flexible morning and evening classes at the College's Greater Los Angeles and Inland Empire campuses are offered. The College's Ontario and Los Angeles campuses can be reached at (888) 80-PLATT (75288) or at http://www.plattcollege.edu.
*Some or all of these fields have additional qualifications. Graduation from the program is not a guarantee of employment.
# # #