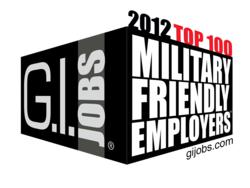 "We value the leadership experience that military veterans have brought to Amazon, and we're honored that G.I. Jobs has named Amazon the #1 Military Friendly Employer for 2012," said Dave Clark, vice president of Amazon's North American Operations
Pittsburgh, PA (PRWEB) November 14, 2011
Across all industries, from financial institutions to energy firms, corporate America is investing heavily in military talent, according to G.I. Jobs' ninth annual list recognizing the nation's top Military Friendly Employers®, http://www.gijobs.com/2012top100
The list of 100 companies represents the top 2% of more than 5,000 eligible companies whose annual revenues exceeded $500 million. Criteria included the strength of company military recruiting efforts, the percentage of new hires with prior military service, retention efforts, and company policies toward National Guard and Reserve service.
The military produces approximately 400,000 new civilian workers annually, making "military alumni" one of the largest, and arguably most valuable, sources of renewable and skilled talent in the country.
"We value the leadership experience that military veterans have brought to Amazon, and we're honored that G.I. Jobs has named Amazon the #1 Military Friendly Employer for 2012," said Dave Clark, vice president of Amazon's North American Operations. "We have a dedicated military program that has helped hundreds of veterans transition into the civilian workforce and build their careers at Amazon, and we're actively recruiting for even more veterans to join our company."
The G.I. Jobs Military Friendly Employers® list, in its ninth year, serves as the primary benchmark of corporate recruiting programs aimed at veterans. The annual survey conducted by G.I. Jobs magazine is one of the primary tools used to determine the nation's Military Friendly Employers®.
"While hiring veterans may seem like a noble thing to do the reality is that corporate America hires them in droves because, quite simply, it's a smart business decision that drives shareholder value" said Sean Collins, director at G.I. Jobs. The average company on the list in 2003 reported that 6% of their new hires were veterans. Nine years later that number has swelled to 17%. Why? Because most military personnel perform the same job functions as those in the civilian world- and often better. "They are supply chain experts, auditors, technicians, nurses, and skilled laborers. They are problem solvers, ambassadors and leaders. They are pressure-tested, work well in teams, and possess a global perspective. What company wouldn't want to leverage that training and experience?" said Collins.
Collins also noted that the ranking within the list makes little difference since simply making the list of 100 employers places them in the 98th percentile of all eligible companies.
The Top 100 Military Friendly Employers® list is published each December in G.I. Jobs magazine, and on http://www.gijobs.com.
About GI Jobs:
G.I. Jobs (http://www.gijobs.com) is published 12 times per year by Victory Media, a veteran-owned business. The company also publishes The Guide to Military Friendly Schools®. You can follow G.I. Jobs on Facebook at http://www.facebook.com/GIJobsMagazine or on Twitter @gijobsmagazine
For further information on G.I. Jobs or Victory Media, or to arrange interviews contact: Barbara Pflughaupt , BP Media Relations, LLC 212-707-8181 or Judee Cohen – 917-721-0663
# # #