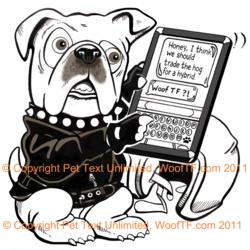 She texts, "Honey, we should trade the hog for a hybrid". He responds, "WoofTF!"
(PRWEB) November 16, 2011
Just in time for the holidays, Pet Text Unlimited released their newest tee shirt design, the WoofTF Biker Bulldog, for dog lovers and Harley Davidson enthusiasts across the globe.
This original design features a bulldog dressed in leather and a spike collar texting back in forth with his girlfriend. She texts, "Honey, we should trade the hog for a hybrid". He responds, "WoofTF!" (Hog is a slang term for describing a Harley Davidson motorcycle.)
The phrase WoofTF™ (pronounced woof tee ef) was coined by the dog lovers at Pet Text Unlimited in Boston, MA USA. They have created a line of imprinted products with "words and images that dogs may think, say or text on their pet friendly, mobile device". Humans text WTF. Dogs text WoofTF™.
The WoofTF Biker Bulldog design is available on both men's and women's apparel including short sleeve tee shirts, long sleeve tee shirts and sweatshirts. Products range from $15.00 to $30.00 plus shipping and can be ordered on the website http://www.WoofTF.com.
Love the idea of dogs texting? Download the free Infographic called "When dogs text" (included with this release) or Pet Text's official "Dog texting language".
Sometimes you just gotta say WoofTF™!" http://www.WoofTF.com @WoofTF on Twitter
###