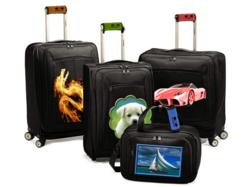 Erie, PA (PRWEB) November 15, 2011
LuggageDesigners.com will launch their official website devoted to offering the customer luggage and travel accessories that are unique, customizable and have added security benefits. November 14, 2011.
LuggageDesigners.com will offer luggage that the consumer can personalize with any photo or design of their choice for an easily identifiable case. A traveler's unique look provides for recognizable luggage that cannot be confused with another travelers bag.
This "one-of-a-kind" luggage company offers the added bonus of attaching a personalized luggage tag with a picture and barcode unique to each customer. Lost luggage can be uploaded to Luggagdesigners.com by entering the bar code number, activating a text and e-mail message to be sent to its owner to contact the airline and be easily returned. Having this barcode guards in keeping the customers personal information from appearing where others can see it.
LuggageDesigners.com sells a wide selection of name brand luggage that the customer can personalize with photos and/or designs that they may upload to the website.
Lost, stolen, or confusion of luggage should not be the crisis of any trip. When the customer has their own unique custom luggage and tags that puts them in charge of their luggage and therefore giving them the opportunity to do what they set out to do........enjoy their trip.
###