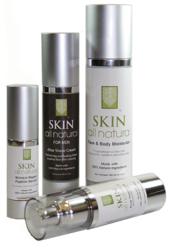 Hygienic and ecological considerations as well as extending activity of natural skin care, make airless bottles an indispensable part of SKIN all natural's product packaging."
Apex, Raleigh, NC (PRWEB) November 14, 2011
SKIN all natural™ is one of the first companies to adopt specially designed airless bottles to dispense their entire line of natural skin care products. All of their creams, lotions, gels and serums are packed in these rigid airless bottles avoiding any possible contamination from an external source (direct contact with fingers, air, etc…) Couple this with their high quality US based manufacturing in clean room environment, allow them to extend the shelf life of their products without resorting to harmful preservatives.
The main difference is that, there is no dip tube in airless but rather a diaphragm that rises to evacuate the product. The product is evacuated almost 100 percent as the diaphragm moves up the bottle. SKIN all natural™'s airless packaging also offers ecological benefits because there is no waste and because formulations can be developed without toxic chemical preservatives.
"Controlled dosage is also an important benefit of moving toward airless packaging," says Sudhir Shah, chief scientist for SKIN all natural™. "Precise repeatable dosing for our specialized skin care formulations cannot be accomplished in a tube."
Consumers that spend their hard-earned money on natural skin care products want the highest quality for the length of its use and the guarantee of full product dispensing, SKIN all natural™ leverages airless packaging as they understand the value in paying for packaging that will guarantee the long-term integrity of their products.
SKIN all natural™ is a cosmeceutical brand of Choice All Natural, Inc. a family owned business dedicated to providing high quality, all natural alternatives to beauty, health and wellness consumers. For more information visit http://www.skinallnatural.com.
# # #