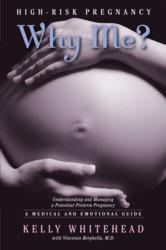 Dr. Berghella, says "It's a resource based on clinical and research evidence that even doctors should read and be aware of, but given Kelly's extensive personal experience, it provides that crucial emotional support these moms-to-be crave."
McAfee, NJ (PRWEB) November 18, 2011
Evolve Publishing is offering free advanced copies of their forthcoming book, "High-Risk Pregnancy – Why Me?" to physicians, midwives, and nurses who care for women during high-risk pregnancy. Evolve believes that the book will help to educate others on the emotional aspects of a tough pregnancy, and aid families to better understand the medical information they encounter, as well as to provide hope during this time. The goal is to provide practitioners with a comprehensive, easy-to-read reference tool to use within their practice.
Author, Kelly Whitehead, was stressed, scared, and confused. Facing a high-risk pregnancy after the loss of her first child at nearly 23 weeks, the scientist mom was disturbed by the scarcity of detailed information available on pregnancy when there's the chance of a premature baby. So, after two ultimately successful high-risk pregnancies, she joined forces with a top doctor and preterm birth researcher, Dr. Vincenzo Berghella to complete this book.
Candace Hurley, Executive Director of Sidelines National High Risk Pregnancy Support Network says, "I love Kelly's 'no-nonsense' approach to dealing with a high-risk pregnancy. Why Me? echoes Sidelines' straightforward method of educating and empowering a woman with pregnancy complications to become the most important member of her medical team. A must read, physicians and midwives should be handing it out along with prenatal vitamins to women at risk!"
Whitehead notes that preterm birth is a major issue within the US and around the globe. Approximately 500,000 babies are born premature every year in the U.S., where the infant mortality ranks a sad number 46, worst than most other developed nations. Millions are affected by a high-risk pregnancy. Her dream is "that by helping to educate families encountering a high-risk pregnancy, they can gain some comfort and actually get to enjoy their pregnancies. I hope that the doctors who work with women during this stressful time will get the opportunity to see what it's like through the eyes of their patient." For more information on receiving a free copy for your practice, email the publisher at info(at)hrpwhyme(dot)com. A portion of all proceeds from the sale of this book will go to charities dedicated to helping women and babies.
###