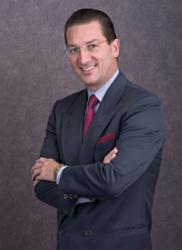 They can really express what they want and need, and I understand it perfectly.
Houston, TX (PRWEB) November 14, 2011
For Houston plastic surgeon Dr. German Newall, the exponential growth of the nation's Hispanic population combined with Newall's increasing visibility on Spanish-language networks such as Univision have translated to a dramatic rise in his Latino patient base and a corresponding shift in consumer preferences.
Newall's ability to converse fluently in both Spanish and English combined with his ease in front of the camera have made him a popular guest on many Houston-based Spanish-language television networks, newspapers, and radio stations. In the past year alone, the surgeon has been interviewed by journalists from Univision, Telemundo, and a Venezuelan newspaper for segments on both surgical and nonsurgical cosmetic plastic surgery procedures.
For a recent Univision program which spotlighted CoolSculpting nonsurgical fat reduction, the network's news team interviewed Newall and followed the progress of a patient who experienced the treatment at his office in an effort to reduce a stubborn post pregnancy tummy bulge. In addition, Newall caught the eye of television producers at Telemundo, who invited him to be the cosmetic plastic surgeon expert on the show Glamour Extremo, to be aired throughout the United States and Latin America. On the show, Newall discusses what can be done cosmetically to enhance the face and body from the perspective of a plastic surgeon, while a panel that includes a makeup artist, fashion stylist, and nutritionist offer their expertise to help transform the appearance and confidence of a selected individual.
These programs have heightened Newall's visibility among the nation's Hispanics, whose population in the United States has grown by 43 percent since 2000, according to 2010 U.S Census Bureau statistics. Census data shows Hispanics comprise 16 percent of the nation with a population of 50.5 million residents. Newall's ability to converse in their language is a compelling factor that leads his Spanish-speaking patients to choose him as their plastic surgeon.
"The overall reason I think they feel more comfortable with me is the language barrier is removed," said Newall, who graduated from Georgetown Medical School in Washington D.C. as the first non-U.S. citizen to be accepted into the school's program. "They can really express what they want and need, and I understand it perfectly." This ability to communicate directly with the patient is more effective than having a third-party Spanish-speaking liaison translating between the physician and patient, he said.
Among the surgeon's Hispanic patients, body contouring surgery such as liposuction, the Brazilian butt lift, and tummy tuck surgery are by far the most requested procedures, significantly outdistancing requests for facial rejuvenation procedures such as facelift, browlift, and eyelid surgery.
One of the main reasons for this is Hispanic skin tends to be thicker and less easily affected by environmental factors like the sun, which can prematurely age the skin and facial appearance, said Newall. Cultural preferences also account for the popularity of body contouring procedures among this group. In general, women from South America prize having curves throughout the entire body, in contrast, to the more top-heavy, slim-hipped proportions that are favored in the United States, said Newall.
His Latin-American upbringing influences his own perspective of body contouring goals for female patients: to restore well-proportioned lines to the body while enhancing feminine contours. Whether it is breast augmentation, Brazilian Butt lift surgery, or a tummy tuck procedure, Newall incorporates subtle techniques that accentuate curves to give patients results that have an added "wow" factor.
"The concept of making a female more boyish by removing her natural curves is the wrong approach. The eye perceives beauty as a proportional whole," said the surgeon.
In polls conducted by H Magazine, Houston-area physicians have repeatedly named Newall one of the city's top plastic surgeons to whom they would send family and friends. In addition, a 2010 Goldline Research study published in Forbes magazine listed the Houston physician as one of the nation's leading providers of plastic surgery.
###