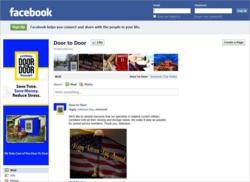 Our Facebook page is a valuable resource where individuals can share information, their experiences and help others who may be going through similar life transitions.
Kent, WA (PRWEB) November 15, 2011
Door to Door Storage Inc. recently launched its latest online resource with the creation of a new Facebook page at http://www.facebook.com/doortodoorstorage. Becoming a fan will enable customers to not only interact with the company, but help them connect with each other and share experiences and advice.
"A growing number of people rely on user reviews to help make their purchasing decisions," said Tracey Kelly, Senior Vice President of Sales and Marketing, Door to Door. "We believe Facebook is one of the best ways to share this information as it connects individuals directly with people they already know and trust."
With more than 800 million active users on Facebook (footnote 1), Door to Door is answering the desire of consumers to connect and communicate via social media platforms. It also recognizes the growing reliance on word-of-mouth and the role it plays in the decision-making process. According to a Nielsen survey, 70 percent of Internet consumers trust online user reviews (footnote 2). Door to Door's Facebook page will help to facilitate these types of authentic interactions and serve as a community resource to provide unique knowledge and insights. Customers can also find moving tips, links to lifestyle topics related to their storage and moving experience in addition to announcements, photos, videos, special promotions and incentives.
The pioneer in the mobile moving and storage industry, Door to Door has helped individuals and families across the country manage life transitions that can include job relocations, staging/selling a home, remodeling, military moving/storage, or going away to school. The company continues to demonstrate its innovative leadership by providing multiple ways to access information through online and mobile sources—the Facebook page launch being the most recent in a series of announcements. Customers can also book moving and storage services, take advantage of Door to Door's best-in-class customer protection plan (CPP), and make payments online by using either a computer or mobile device.
"Our Facebook page is a valuable resource where individuals can share information, their experiences and help others who may be going through similar life transitions. Moving is never as simple or easy as we would like it to be, and this type of supportive community can help make the process as stress-free as possible," said Kelly.
1 http://www.facebook.com/press/info.php?statistics
2 http://blog.nielsen.com/nielsenwire/consumer/global-advertising-consumers-trust-real-friends-and-virtual-strangers-the-most/
About Door to Door Storage, Inc.
Since 1996, Door to Door Storage, Inc. has helped people across the nation with their moving and storage needs. An industry pioneer, Door to Door was the first portable storage and moving company to provide customers with a convenient, secure and cost-effective alternative to traditional self-storage and household moving. Using an environmentally-friendly container design, Door to Door provides customers with a personalized experience for temporary or long-term moves.
Door to Door operates storage centers in more than 54 U.S. metropolitan markets and offers moving services in 36 states. The corporate headquarters is located in Kent, Washington. For more information, visit the company website at http://www.doortodoor.com.
# # #