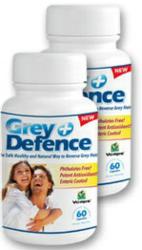 I will definitely be recommending Grey Defence™ to my friends – at least the ones I like
(PRWEB) November 15, 2011
COORGA Nutraceuticals today announces another company milestone for its new gray hair pill - Grey Defence™ . COORGA Nutraceuticals is pleased to announce its 1000th customer - Geraldine Richmond of California. Ms. Richmond is the 1000th customer to purchase Grey Defence™ since its September 11, 2011 released to the public. Grey Defence™ is the #1 gray hair treatment solution to reverse gray hair. Grey Defence™ is a global phenomenon that reverses gray hair on 5 continents.
In recognition of this company milestone, Ms. Richmond received her 3-bottle order of Grey Defence™, the best gray hair treatment solution, absolutely free of charge.
Said Ms. Richmond; "this is a pleasant and unexpected surprise", she continues, "I first wanted to try Grey Defence™ to reverse gray hair that came about in the last few years and I liked the fact that your gray hair pill is enteric coated. I didn't want to waste my hard earned money on something that wasn't going to work. So I did a lot of research before buying this product. I compare many other Catalase gray hair pills and what sold me on Grey Defence™ was the high quality ingredients, the enteric coating and the money back guarantee. I will definitely be recommending Grey Defence™ to my friends – at least the ones I like."
Grey Defence™ works by chelating and decomposing hydrogen peroxide in the hair bulb that bleaches and damages hair. It also provides a boost of key melanin producing ingredients required by the body (melanin is what gives skin and hair its color). Hydrogen peroxide is produced by the body's natural metabolic activities, but gets out of hand during periods of prolonged stress (this is why Presidents tend to go completely gray within a few short years of taking office). Grey Defence™ ingredients includes potent antioxidants such as vitamins, essential amino acids and the enzyme Catalase. All wrapped in a protective 100% vegetable shell employing time release technology to protect against stomach acid. Visit us and learn how the best gray hair vitamin works.
About COORGA Nutraceuticals Corporation
COORGA Nutraceuticals is a company focused on developing products for the anti gray hair market. The company also operates Gray Hair Defence blog; a resource for those looking for information on what cause gray hair.
###