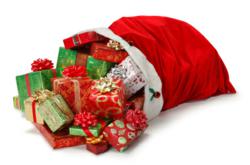 I can not thank Harrington Moving & Storage enough, and the people of Tioga/Owego are so appreciative of your thoughtfulness
Owego, New Jersey (PRWEB) November 16, 2011
Well known for their charitable endeavors, Harrington Moving & Storage has recently completed a huge donation project for the residents of Owego. The small town in Tioga county, upstate New York was devastated by floods following hurricanes Irene and Lee in September this year. The company rose above and beyond expectations by providing two truckloads of furniture as well as delivering wrapped toys for the children.
The company jumped into action after it was contacted by a NYC resident, Jennifer Hill, who grew up in Tioga. Upon seeing the damage and subsequent suffering of the residents, she began contacting N.J. companies requesting assistance and donations for the small town. Jen approached Harrington Moving & Storage to see if they would donate furniture to the ravaged town and the president Jeff Harrington did not hesitate in pledging his company's support. "Tioga is not close by, but we were keen to help," says Mr Harrington.
Rallying up support from local residents, Harrington Moving & Storage arranged for the collection of donated furniture which it then transported to the Tioga Center Fire Department which is 3.25 hours away. From there it was distributed to victims of the floods. Furthermore, Harrington Moving & Storage delivered wrapped presents for the children of Owego. These will be given at a Christmas party held by the Tioga County Open Door Mission for 1000 of the town's children.
Jennifer had initially contacted several N.J. Movers who unfortunately failed to respond to her requests for help. Well known for their charitable reputation and frequent efforts to raise aid for those in need, Harrington Moving & Storage quickly agreed and arranged for two truckloads of furniture to be delivered. In addition to the furniture and toys, the president of, Mr. Jeff Harrington, also made a video he posted on YouTube to raise awareness for the destroyed town. "I can not thank you enough, and the people of Tioga/Owego are so appreciative of your thoughtfulness," says Jennifer in response to all the welcome efforts made by the charitable moving company.
About Harrington Moving & Storage
Harington Moving & Storage has been a leading moving and storage company since 1996. With extensive experience and an excellent reputation, the New Jersey based company offers reliable, efficient and affordable moving and storage services for individuals and businesses alike. Harrington Moving & Storage plays an active role in the community and organizes monthly (and sometimes weekly) charitable services to help a range of local organizations, schools and members of the community. Harrington Moving & Storage prides itself on its philanthropic role and strives to increase charitable activity from local businesses and residents alike. For more news on Harrington Moving & Storage, and all their charity projects, please visit http://www.harringtonmovers.com/about/news/portal.php.
###