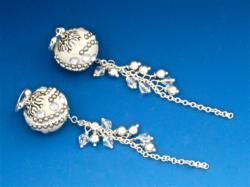 "Art for the Mind, Body and Soul".
Los Angeles, CA (PRWEB) November 21, 2011
Alexis Studio Design, L.L.C., in association with The Artisan Group, will provide its hand-crafted jewelry for GBK Production's 2012 Golden Globes Gift Lounge Jan. 13, 2012. The event will be hosted at the L'Ermitage Hotel in Beverly Hills, California, in honor of The 69th Annual Golden Globes Awards Nominees and Presenters.
The Alexis Studio Design Pearl and Gemstone Cascade Silver Neckwire will be prominently displayed at The Artisan Group Exhibit. This sophisticated S-shaped piece features teal and white components intricately placed together with a beaming dropped gemstone along the collarbone.
All attending celebrities will be gifted the Asian Moonlight Earrings in the event swag bags. These delicate pieces feature a spherical bead and gem crusted element near the lobe, with chain and jewel dangling to the shoulder.
About Alexis Studio Design, L.L.C.
Alexis Studio Design, L.L.C, is a sole proprietorship owned and operated by designer Alexis Gopal M.D. Gopal began her venture into jewelry design early in life, but optimized her creativity after electing to discontinue her practice of medicine. Clientele includes local business, patrons of the Alexis Studio Designs Etsy shop and celebrities.
Alexis Studio Design is an accepted member of The Artisan Group, a prestigious juried art promotions group representing talented artisans at Hollywood's best celebrity Gift Lounges.
For press inquiries regarding The Artisan Group, visit http://www.theartisangroup.org or email press(at)theartisangroup(dot)org.
###