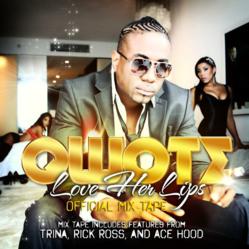 Miami, FL (PRWEB) November 14, 2011
Pop/R&B artist Qwote recently released his mixtape "Love Her Lips." Coast 2 Coast Mixtapes presents the project in association with Final Cut Music Group, which is hosted by DJ GQ. It is now available for free download. "Love Her Lips" features Qwote on tracks with Pitbull, Rick Ross, Black Dada, Plies, Mike Bless, Trina, Ace Hood, and Swazy Baby. Production is added by Kore, No Dress Code, Lucenzo, Johnny Quest, Jim Jonsin, DJ Deuce, JR Rotem, Oz N Da Decon, Cash Hits, Zef, and Twice As Nice.
There is something about male Pop singers that transcends something far more superior than your average mainstream artist, in the music industry. Even in the small cluster of today's male singers, there have been few exceptions to those who appear to be on another level. This distinction is found in new pop musician Qwote. Born in Haiti and raised in Long Island, NY and Miami, FL this pop sensation was destined for musical success. The imaginative singer has come a long way from being raised single handedly by his grandmother. Qwote has been in love with music his whole life, and at the age of twelve he started to pen his own lyrics and decided to do more than just listen to music, but to become an artist himself. With that decision, Qwote took his musical matters into his own hands and forged ahead in a full-time career as a singer and songwriter, working with artist such as platinum-selling rap star Trina on tracks such as "Don't Want to Fight," Danity Kane, Wayne Wonder, Shaggy, and more. He was recently featured on Pitbull's smash hit "Throw Your Hands Up."
Drawing inspiration from artist such as Sam Cooke, The Beatles, Michael Jackson, and Lenny Kravitz, the aspiring singer has already established his future goals and ambitions: "My goal is to create a new lane that can bring fresh innovative music that touches the soul and evokes thought, passion, and creativity on another level." Qwote's first big break came when he was brought to work on Trina's album by producer Steve Obas (owner of Final Cut Music Group), who advised and mentored Qwote from the beginning of his musical career. While working on Trina's album at Slip-N-Slide Records music studio in Miami Qwote co-wrote and Steve produced tracks for Trina, some of which broke on the radio in a few major markets. Soon after his production with Trina, Qwote was approached by Slip-N-Slide label executives to lock in a major music deal.
"Love Her Lips" is available for free streaming and download at http://coast2coastmixtapes.com/mixtapes/mixtapedetail.aspx/qwote-love-her-lips
###