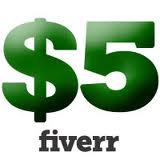 Marketing Guru Sheila Danzig is digging to find out if the average person can make a living on fiverr.
Weston, FL (PRWEB) November 15, 2011
In case you have been away for a bit Fiverr is one of the hottest websites today.
FIVERR.COM started as social experiment. It was a website where people would list what they would do for $5.00. And it grew.
According to XMakeMoneyOnline "Fiver is a network where crazy (and non-crazy) people offer their services, or gigs as they call it. The price is fixed to $5 for every gig on the whole website and the gigs are sorted in to different categories, such as: travel, social marketing, fun & bizarre, business, technology, programming, video, graphics, advertising, writing and a lot other. The website has gone viral like few other websites has, mainly because it somewhat revolutionized the way people could make quick profit online. It's great for people who are just starting to make money online and it will for sure help you pay for that domain name, web hosting and everything you need to get started with your real business."
Author and marketing expert Sheila Danzig set out to learn about fiverr for an upcoming book. First she wanted to learn if in fact there are any talented people on fiverr. The answer is yes. "I found excellent voice over professionals who offer their services for a fraction of their normal cost." said Danzig. "Often $5 will pay for only 30 seconds so that the buyer sees how good they are, but $5 for 30 seconds of voice over from an experienced professional is extraordinary."
"Non-US professionals in countries like the Philippines, where $5 translates to a good sum of money," continued Danzig, "are being paid well in their own currency and provide the buyer a huge discount for a host of services from graphic design, video production and editing, to promoting your business on Facebook, YouTube etc. If you can think of it, someone on Fiverr is doing it. And if you are not satisfied with the work, you do not have to accept it or pay for it."
Now Danzig is drilling down to see if the average person can make money on fiverr. To find the answer she decided to see her book, "POWER PUBLICITY: HOW TO GET RICH AND FAMOUS WITH FREE PRESS COVERAGE" which sells for $19.95 for only $5 on fiverr at http://tinyurl.com/danzig-fiverr as a social experiment of her own to see if it would sell and if she could teach others how to make a living selling their products and services on fiverr.
Danzig's gig offers to teach buyers how to get Thousands of Dollars of Ad Space FREE with FREE Publicity - promising "secrets that the PR agencies do not want you to know."
"I delivered it as a soft copy (PDF file)," said Danzig. "That kept the costs down. I did not hope to make a fortune doing this but I did want to learn how to make the average person could make money on fiverr."
Danzig found that the biggest challenge was to get her gig seen. She quickly discovered that if you drive traffic to your fiverr gig, fiverr will reward you by moving your gig up higher in the lists. Danzig tweeted the gig and posted it to websites.
"The jury is still out," Danzig added. "I sold 35 books since May so I will be keeping my day job. However, I am working on driving more traffic to the fiverr gig to see if it can become a 'featured gig' which should boost the exposure tremendously." Danzig spoke to an artist, Mahrita A., a fiverr whose gig took off after becoming a featured gig. "I can't keep up with the orders. I never dreamed of having this much business but it took time until I was featured." "Unlocking the secret to being featured may be the secret to making money on fiverr," and I plan on revealing that in my book.
If you want to help Danzig's gig become a featured site click on the fiverr site at http://tinyurl.com/danzig-fiverr
"Feel free to drop a fiverr to buy my book while you are there. Selling more copies will move me along to becoming a featured site too," explained Danzig. "I promise you wll get much more than your moneys worth!" Click here and become a part of my experiment:
http://tinyurl.com/danzig-fiverr
###