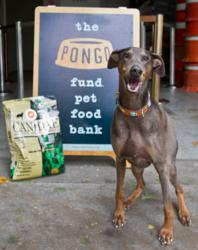 Keeping pets with their families not only helps reduce animal shelter populations (and save tax dollars that support them), it helps people stay healthier too.
Portland, OR (PRWEB) November 14, 2011
This week The Pongo Fund, Oregon's emergency pet food bank, celebrated its second anniversary and provided its 2,500,000th meal for the pet of a family in need. This is a major milestone for the non-profit organization, which was formed to help address a growing concern in our society: when people go hungry, their pets go hungry too. By donating emergency pet food to families across Oregon and Southwest Washington who are struggling to make ends meet, The Pongo Fund prevents beloved animal companions from being surrendered to shelters simply because their families cannot afford to feed them.
The Pongo Fund, which is entirely staffed by volunteers and receives no government or public funding, is Oregon's only full time resource focused on fighting animal hunger – more than 100 emergency food agencies, shelters and rescues in 28 counties across the state have received emergency pet food from the organization. As just one example, many of the Oregon Food Bank's record-setting 1,000,000 food boxes contained pet food donated by The Pongo Fund.
"We partner with many wonderful organizations to accomplish our mission, but The Pongo Fund is one of the best," said Judy Alley, Executive Director of SnowCap Community Charities. "They alone are seeking to assure good quality nutrition for the pets in our lives."
"We don't just fight animal hunger, we fight all hunger," said Larry Chusid, founder of The Pongo Fund. "For a financially-strapped family with a dog or cat, that package of hot dogs or can of tuna they get from the human food bank often becomes pet food. The fact that food stamps can't be used for pet food only compounds the problem. So people continue to go hungry because they don't want to lose their animal companions," Chusid added.
Keeping pets with their families not only helps reduce animal shelter populations (and save tax dollars that support them), it helps people stay healthier too. According to the Centers for Disease Control (CDC), pets can lower blood pressure, cholesterol levels and triglyceride levels and decrease feelings of loneliness.
"The health and well-being of their pets is a paramount priority and many of our clients would go hungry before allowing their pets to skip a meal," said Sam Engel, Resource Development Coordinator for the Josephine County Food Bank Network. "I cannot thank The Pongo Fund enough for what they have provided – all I can do is to pass along the gratitude of thousands of our human clients who are truly appreciative and their thousands of pets who, thanks to The Pongo Fund, are blissfully unaware of their owners concerns over providing them food."
The tangible benefits of The Pongo Fund's work over the past two years go far beyond the 2,500,000 pet meals donated. A pet may be the only foundation of comfort for a child whose family is facing tough times or the only family and source of unconditional love for a lonely senior. Losing a pet when circumstances are already hard can further a downward spiral of mental and emotional suffering that impacts the health and well-being of individuals, families and our entire community.
The Pongo Fund received widespread attention earlier this year when a Portland dog, Ceili, was nominated for a national Dogs of Valor award sponsored by the Humane Society of the United States. Ceili, a senior dog who was receiving food from The Pongo Fund, helped her owner survive a heart attack. The family, who was living on Social Security disability payments and struggling to pay the bills, said if it weren't for The Pongo Fund, Ceili may not have been there to save the man's life.
The Pongo Fund quietly celebrated its second anniversary by doing exactly what it has been doing the 2nd and 4th Sundays of each month for the past two years: serving the ever-growing line of people who come to the organization's warehouse on NE MLK Blvd. in Portland seeking the pet food assistance that will help them get through hard times and enable them to keep their families together.
Thanks to the generous support from founding partners Canidae Pet Foods and Dogswell, The Pongo Fund trucks pet foods to wherever people and their pets are in need. Because they rely entirely on cash donations and volunteer help and have no additional resources for marketing, most recipients do not know that the food came from The Pongo Fund. They just feel relieved that their dog or cat won't have to go to bed hungry.
The importance of the animal-human bond – particularly during tough economic times – has been recognized by numerous organizations across Oregon and Southwest Washington who have benefitted from The Pongo Fund. The clients of esteemed groups including the Oregon Food Bank, Marion-Polk Food Bank, Linn-Benton Food Bank, Columbia Pacific Food Bank, Josephine County Food Bank, Mid Columbia Community Action Council, United Way/211, Oregon Department of Human Services, Dove Lewis, Oregon Humane Society, Southwest Washington Humane Society, Salvation Army, Snowcap Charities, Transition Projects, Neighborhood House, Central City Concern, FISH, Sunshine Pantry, Our House/Esther's Pantry, Veterans of America, Ecumenical Ministries, Portland Adventist Community Services, Union Gospel Mission, Meals on Wheels, Human Solutions, Loaves and Fishes, Tualatin School House Pantry, Potluck in the Park, Holy Trinity Food Closet, Happy Tails Rescue, Oregon Dachshund Rescue, Curry County Animal Shelter, South Coast Humane Society, Multnomah County Animal Services and more depend on The Pongo Fund.
About The Pongo Fund
The Pongo Fund is Oregon's emergency pet food bank. We are a volunteer-staffed, 501(c)3 non-profit public charity that provides more than one million pet meals each year to help struggling families make ends meet. We envision a community where no pets are ever abandoned or surrendered to shelters simply because their families cannot afford to keep them fed. By providing emergency pet food relief, The Pongo Fund succeeds in our mission to reduce shelter populations and keep people and their pets together.
For more information, please go to: http://www.thepongofund.org or our Facebook page: http://www.facebook.com/thepongofund. You can contact us at:
The Pongo Fund
PO Box 8244
Portland OR 97207
info (at) thepongofund (dot) org
503-939-7555
###