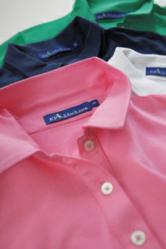 "We have completely revolutionized the way American classics are made," says KP MacLane President and CEO Jared MacLane.
Atlanta, Georgia (PRWEB) November 18, 2011
Online retail sales continue to grow each year, but the future of online retail lies with sophisticated shoppers moving away from mass market and towards high-quality, niche brands. In time for the 2011 holiday season, KP MacLane Company launches their rare and exceptional USA-made apparel brand with an e-store. Combining European tradition and fashion with American ingenuity and pride, KP MacLane is redefining the classics one product at a time.
"We have completely revolutionized the way American classics are made," says KP MacLane President and CEO Jared MacLane. "When you combine the traditions of European fashion and American craftsmanship, the result is a truly unique and original product."
The first product for the company is the signature KP MacLane women's polo shirt, made in the USA of a French cotton and modal jersey blend. According to the company, the shirt has been redefined for a more contemporary, feminine silhouette and weightless comfort.
"We redesigned a wardrobe staple, creating the perfect fit by slightly elongating the body and sleeve length," describes KP MacLane Co-Founder and Creative Director Katherine MacLane. "Aside from being comprised of the most comfortable knit fabric possible, we have also perfected the placket to be able to show off your favorite jewels."
Each shirt is packaged in a linen drawstring bag, to leave less of a carbon footprint behind when it comes to shipping and wasted packing material. The company's signature pink and green bird is hand-embroidered on the front of the bag, which can be reused.
About KP MacLane
KP MacLane founders,Katherine and Jared MacLane, met in 2004 while working for Hermes of Paris. In 2010, after a combined 15 years working for the famed French luxury goods company in New York, Beverly Hills and San Francisco, the couple founded KP MacLane, named after co-founder Katherine Petty MacLane. Expanding their passion for European details and quality craftsmanship, they built an exceptional USA-made brand, highlighting detailed design and preppy influences while using the most exquisite European knits.
The inspiration for KP MacLane's signature pink and green bird came from wild parrots who happily wander the skies of San Francisco, where KP MacLane was founded. The exceptional nature and quirkiness of the tropical fauna in a sophisticated urban setting set the tone for the whimsically preppy and classic American company.
The mission at KP MacLane is to create quality products manufactured in the United States. Using only the finest raw materials, KP MacLane creates the perfect blend of European fashion and luxury meeting the pride of a USA-made product. The company manufactures in New York, and is based in Atlanta, Georgia.
###