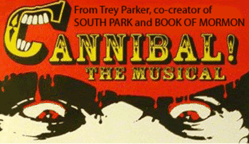 "Just say NOklahoma!"
Washington, DC (PRWEB) November 15, 2011
The Landless Theatre Company presents Trey Parker's Cannibal The Musical at District of Columbia Arts Center from November 25 - December 23, 2011 . The play is directed and adapted for the stage by Andrew Lloyd Baughman, Producing Artistic Director of Landless Theatre Company.
"Cannibal The Musical" runs November 25 - December 23 at DCAC, with performances Thursdays through Sundays at 7:30 PM.
Cannibal! The Musical is the true story of the only person convicted of cannibalism in America - Alferd Packer (according to Colorado lore). The sole survivor of an ill-fated trip to the Colorado Territory, he tells his side of the harrowing tale to news reporter Polly Pry as he awaits his execution. And his story goes like this: While searching for gold and love in the Colorado Territory, he and his companions lost their way and resorted to unthinkable horrors, including toe-tapping songs!Landless Theatre produced a very successful run of Cannibal! The Musical in 2006 at DC Arts Center. This "remount" production features an all new cast, and some new surprises.
"Cannibal was our first 'signature' production in 2006," explains director Baughman. "In a time when local theatre companies need to revive Oklahoma thirty times to stay alive, it's only appropriate to revive the musical that cannibalizes Oklahoma and all of the other classic American musicals. It's also a proud reminder that whereas Broadway is just now catching on to the genius of Trey Parker in Book of Mormon, this small company was already there five years ago!"
The principal actors include newcomer Patrick M. Doneghy as Alfred Packer, Steve Custer (Dr. Horrible's Sing-Along Blog, Gleeam) as Frenchy Cabazon, and Stefanie Garcia (High Fidelity, Dr. Horrible's Sing-Along Blog) as Polly Pry. The production is choreographed by Heather Bagnall Scheeler.
"I can't wait to see 'Dr. Horrible' played out with live actors and musicians in front of an audience," adds Baughman. "I hope they show up in costume and sing along!"
'Cannibal' marks the opening of Landless Theatre's 2011-2012 "Cannibal Superheroes from Space Season" including DC premieres of Devil Boys from Beyond (2009 FringeNYC Overall Excellence Award for Outstanding Play); Spidermusical. (from the creators of Perez Hilton Saves The Universe); and the second annual LANDLESS MASH-UP FEST, featuring original mash-up sketches by local playwrights (The Dark Knightmare Before Christmas, Night of the Living Golden Girls, Jesus Christ Superstarsky and Hutch, and more).
Cannibal! The Musical runs November 25 through December 23, Thursdays through Sundays at 7:30 PM. All performances are held at District of Columbia Arts Center, 2438 18th St. NW. Admission is $25. For tickets and information visit http://www.landlesstheatrecompany.org.
**Press Night is Saturday, December 3, 7:30 PM at DCAC. Please email Andrew Baughman at landlesstheatre(at)gmail(dot)com to RSVP.**
Visit http://www.landlesstheatrecompany.org for details on the Landless Theatre Company's season.
About Landless Theatre Company: The Landless Theatre Company is a 501(c)3 nonprofit organization dedicated to infusing vitality into the local arts by producing exciting and accessible alternative theatre to generate new and diverse audiences.  More information and production history online at  http://www.landlesstheatrecompany.org
# # #