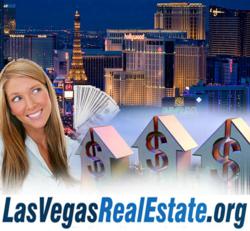 Las Vegas Real Estate Market Attracting All-Cash Buyers
Las Vegas, NV (PRWEB) November 14, 2011
Las Vegas foreclosures for sale are gaining worldwide attention as home buyers and investors continue to discover some of the lowest prices in over 20-years. Trulia research confirmed by LasVegasRealEstate.org has Las Vegas homes as the #1 price-to-rent ratio in America. While appreciation remains flat for most communities, immediate cash flow of the rental market is driving the excitement showing 10% and better returns for savvy buyers.
Ashley McCormick of Realty One, Nevada's number one real estate company has seen an increased interest from foreign buyers and retirees taking advantage of the affordable prices. Foreign buyers are looking to compound on the benefits of purchasing second homes against a week US dollar while retirees are looking to get the best value for their remaining dollars in popular communities like Sun City Las Vegas ,starting at just $100K . Either way, Las Vegas foreclosures are proving to be the deal that discerning buyers are deciding on after doing their research.
McCormick is advising buyers to take note of the niche markets to see the positive impact these cash buyers are having and the long term effects they may have on Las Vegas real estate market trends. Las Vegas high rise condos for sale stand out as a dominate niche with 90% all-cash buyers. The low priced units are being picked off the market forcing prices to not only show the first signs of appreciation since the recession, but the stability the debt free property owners bring to the community.
Th average medium price of a home for sale in Las Vegas is currently $119,900 with 50% of homes for sale in Las Vegas being purchase all cash, the Vegas economy is enjoying more residents with extra income to shop, dine and explore the Vegas world class entertainment. The extra income these buyers bring creates a cycle that also benefits the service industry that largely contributes to the rental population of Vegas.
With all the attention Las Vegas foreclosures are getting, McCormick is advising buyers and investors to get familiar with the market and take advantage of the current market conditions. Due to the number or Canadian buyers and out of state clients making contact she has acquired a toll fee 1-888-920-2292. Property images and information online are empowering some out of state investors to buy sight unseen and own a piece of Vegas without having to travel. Las Vegas homes for sale listed through the MLS are available for search online at http://www.LasVegasRealEstate.org
###