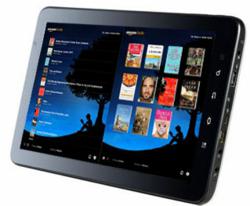 The Hydro Tablet has been designed to capture a different segment of the market, providing a genuine alternative for cost conscious mainstream consumers
(PRWEB UK) 21 November 2011
Many consumers today are keen to experience the advantages that Android Tablets can bring to their home, however the high cost of owning a tablet can often be off-putting.
But one tablet that is creating a bit of a buzz as the ideal all rounder is the StealthX Hydro Tablet™, now available at RetailGadgets.co.uk.
The StealthX Hydro Tablet is a new 10.2" Android 2.3 Tablet aimed at the large market segment of the mid-range family and home user that has largely gone untouched.
Featuring a 1.0GHz ARM Cortex-A9 Processor, a finger swipe style Capacitive Touch Screen Display and 512MB of DDR2 RAM, it has been built with plenty of performance power but is priced at a range that makes it desirable for the typical home at just £179.
This puts the Hydro Tablet within easy reach of the broader consumer market below the critical £200 mark, making it accessible to those who have a more mid-range budget in mind.
Out of the box, the tablet has a well designed two tone curved casing mould, with touch sensitive menu buttons, and a bright luminous 1024 x 600 resolution LCD screen that is capable of producing sharp images in both outdoor and dimly lit conditions.
Firmware upgrades also make this Android Tablet highly flexible in future proofing the product by allowing you to regularly update the tablet, as well as provide opportunities for advanced users to modify their tablet and extract extra performance from the Android OS.
Whilst the majority of tablets today focus solely on the premium early adopter end of the market, they inevitably demand a heavy toll on the pocket.
The Hydro Tablet has been designed to capture a different segment of the market, providing a genuine alternative for cost conscious mainstream consumers who don't want to pay a premium to own a tablet, however still want high all-round performance to meet their everyday needs.
###