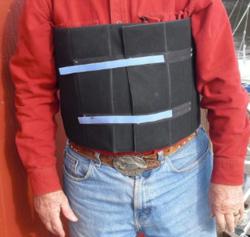 I use the vest for ice fishing. All day on ice, no problems! Very good. Thanks.
Toms River, NJ (PRWEB) November 15, 2011
The new non-electric Weber Toasty Warm Vest (Patent Pending) solves the "warmth without bulk" winter clothing problem once and for all!  The Aerogel insulation material in this new kind of winter wear is a spin-off product developed by NASA for use by astronauts during space walks. Aerogel is the the world's best and lightest insulation known to man. When wearing this new Weber Toasty Warm Vest, this extremely efficient insulating "barrier" protects the upper body from the many discomforts and dangers of exposure to extremely cold weather.
There is no more need to spend valuable time searching for a good quality, reasonably priced vest that can keep the upper body warm and that can provide both warmth and comfort in the worst of the cold winter weather.
With this Weber Toasty Warm Vest the wearer will be "toasty warm" - no matter how cold
the weather becomes because... the wearer will now have a very efficient "barrier" or "insulator", between the upper body and the cold, outside - winter temperature.
The amazing Insulation material used in the new Weber Toasty Warm Vest is NASA's "Aerogel" (also called "frozen smoke") it is the lightest and lowest-density solid known to exist. It also holds the World records for being the best insulator and the lowest density solid.  Aerogel is composed of amorphous Silicon Dioxide, and is 99.8% air. Aerogel is chemically similar to ordinary glass. Aerogel's true strength is its incredible insulating properties.  It negates just about any kind of energy transfer: thermal, electrical or acoustic. Aerogel's density is just 3 milligrams per cubic centimeter (it weighs only 3 times that of air). It's melting point is 2,200- degrees (F). 1,200-degrees (C).
This NASA Insulation material was developed for use in extreme environments and is the world's best thermal protection for outdoor gear, apparel and footwear.Aspen Aerogels® developed by NASA has proven its barrier type insulation value in boots, jackets,vests and sleeping pads tested in the most extreme environments on Earth - from the frigid summit of Mt. Everest to the blistering floor of Death Valley.
Now, that extreme protection is available here on earth for all kinds of consumer outdoor gear including Weber's line of versatile, affordable non-electric insulated products such as: Weber Wrist & Ankle wraps (keeps fingers and toes much warmer); Toasty Feet Foot Warmer Insoles and Weber Toasty Warm Vest.
When Weber as asked: "What kind of feedback do you get from your customers?" He replied: "Here are a few comments we get from our users:"
"I am amazed how good these are, am going to buy more! A**"
"These have made me more comfortable. Thanks!"
"I use the vest for ice fishing. All day on ice, no problems! Very good. Thanks"
Weber Toasty Warm Vests make use of this, the world's best insulation material. This NASA designed nanoporous material is named: Aerogel. It has the highest thermal insulation value of any solid material available today allowing it to block both heat and cold efficiently it is ultra thin and very light weight and is now available for many applications in space and here on earth. It maintains barrier-like insulation values even under severe compression and it can be infused into shoe insoles to keep feet warm as well as being used in Weber Toasty Warm Vests and other articles of warm and comfortable winter clothing.
Additional features of this kind of Insulation as used in Weber outdoor gear, apparel, and footwear include: Highest thermal performance; minimum weight and thickness, loft not required to maintain R value;  doesn't compress or lose performance under load ; waterproof yet allows vapor transmission; increased fashion and design elements ; durable in normal wash/dry cycle.
How to put on and wear the Weber Toasty Warm Vest:
(1) Simply wrap it around your body, chest high. (2) Place it as high as possible - just under your armpits. (3) The Velcro straps when pulled tight, will hold it in place. (4) Satisfaction guaranteed or money back.
Want to try the Weber Toasty Warm Vest? They are available for immediate shipment by writing to: Originals By Weber, 338 Alabama Avenue, Toms River, NJ 08753. Or call: 877-309-8382 or 732-864-0353. Orders can also be place on the following website:
http://www.yrret.stirsite.com/web_page.html
Specification details:
Weber Toasty Warm Vest, Model# WTWV-1: Color: Black. Size: Full length: 48." Width: 12" Thickness approximately 1/8" - Weight: 1 lb.  Velcro straps are used to secure the vest around chest .  Folded size (for storage and travel): 12" L x 3-3/4"W x 3-3/4" D. Length is adjustable using Velcro straps. Can be made longer if needed (optional, on special order). Price: $135.00 (free shipping within USA).
###