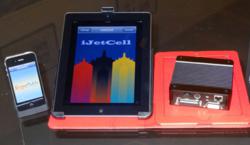 "BizjetMobile" and "iJetCell" are now available from the Apple iTunes App. store.
Melbourne, Australia (PRWEB) November 14, 2011
ASiQ Limited is pleased to announce that their in-flight connectivity Apps, "BizjetMobile" and "iJetCell" are now available from the Apple iTunes App. store.
Ron Chapman, ASiQ's CEO stated, "The Company is very excited about the Apple release as we believe it is truly unique.
What our Apple Bluetooth system does is upgrade an existing aircraft satellite link into a Smartphone/Tablet network and allows passengers and crew to connect outside the cellular roaming network, thereby eliminating roaming charges. You can also remove the existing aircraft PABX and hardwired telephones as they are longer needed. The ASiQ solution eliminates 90% of the system and equipment cost associated with conventional aircraft cell phone technology and considering that over 36,000 aircraft operators have already spent $150 - $650K installing a satellite link, then $15K for a system upgrade is minimal.
Once an aircraft is upgraded with ASiQ's mini satellite router, corporate jet passengers can download the BizjetMobile Voice and Data App via iTunes for US$999 and their pilots can purchase the iJetCell cockpit data App, for US$499.
Our research shows that people in aircraft want to keep in touch just as they do on the ground. Their primary method of keeping in touch when they are on the move is messaging, and on Bizjets, executives want the ability to access their contact lists and initiate calls via their own phone. This is what we deliver, and without the certification issues, high equipment cost and high usage charges associated with Wi-Fi.
While Wi-Fi has its place, it's really only useful if you have broadband and when you consider the very high costs of a broadband system in an aircraft, it's probably the reason over 90% of business jets and airliners only have narrow band and that is where our Bluetooth Apps can make a real difference.
Bluetooth's main attribute is its robust protocol and unique ability to establish a Personal Area Network (PAN) and you cannot get any more personal than in an aircraft."
ASiQ has 2 corporate jets being upgraded with the complete system in Australia and will commence its first US aircraft installation next month. ASiQ has a Bluetooth solution for all cell phones and tablets.
About ASiQ
ASiQ has over 2 decades experience in designing, manufacturing and implementing aircraft passenger and crew communication systems.
BizjetMobile and IJetCell are Apps developed from the patented SafeCell technology created by ASiQ ltd whose intellectual property is licenced from ASI Entertainment Inc.
Bluetooth is a registered trademark of Bluetooth SIG Inc
Apple and the Apple logo are trademarks of Apple Inc., registered in the U.S. and other countries. iPhone and iPad are a trademarks of Apple Inc.
###