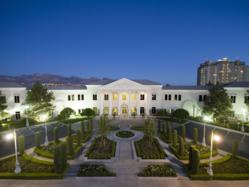 Age management medicine—a proactive approach regarded as the new medical paradigm—is attracting medical residents and veteran physicians, some are among the newest physician partners at Cenegenics® Medical Institute.
Las Vegas, NV (PRWEB) November 14, 2011
Age management medicine—a proactive approach regarded as the new medical paradigm—is attracting medical residents and veteran physicians, some are among the newest physician partners at Cenegenics® Medical Institute, the global leader announced today. Dr. Shahab Mokhtare (Cenegenics Las Vegas) and Dr. Kenneth Janson (Cenegenics Boca Raton) join the ranks of forward-thinking physicians at Cenegenics who engage in a new dimension of healthcare, focused on preventive medicine and superior patient care.
Like other Cenegenics physicians, Mokhtare and Janson see age management medicine as the wave of the future—helping to prevent premature disability/death and guiding patients toward optimal health and vitality using various disease risk markers. The big draw for both Mokhtare and Janson is working closely with motivated patients and the solid leadership at Cenegenics.
"While attending the University of Nevada School of Medicine, I chose a rotation elective that trained me in age management medicine at Cenegenics. That changed everything for me. I joined Cenegenics immediately after completing my family practice residency. Seeing Cenegenics patients—who enjoy life and are willing to work with you to achieve health goals—has been a rewarding experience," Mokhtare said. He is an avid Crossfit athlete, passionate about living a Cenegenics lifestyle.
Janson—a board-certified urologist in private practice since 1977—is not new to age management medicine. He has been a Cenegenics physician affiliate for over four years and recently began the transition from his Chicago-based, age-management practice to partner with colleagues at Cenegenics Boca Raton: Dr. Robert D. Willix, Jr. and Dr. Elise Calapai. Willix is Cenegenics' Chief Medical Officer and the CEO/Chief Medical Officer of Cenegenics Boca Raton.
"Being part of Cenegenics Boca Raton is a true privilege and pleasure for me. Dr. Willix has been a pioneer for many years, a great leader, and I respect him tremendously. I'm excited to move my practice to Florida, where I can work along side both Dr. Willix and Dr. Calapai," Janson said.
Janson will continue to care for patients from his Cenegenics practice in Chicago, who may opt to see him at either the Cenegenics Chicago center or the Cenegenics Boca Raton center.
Cenegenics is continuing to forge more physician partnerships over the next few months as well as open new centers in major metropolitan areas.
Physicians can learn more about age management medicine and Cenegenics' highly regarded training/certification program by contacting Dr. Michael Resnick at 702.953.1574 or Dr. Tim Patel at 702.953.1577.
Visit Cenegenics' Facebook Fan page, follow them on Twitter and get patient celebrity blogs, health tips and news on their portal site, CenegenicsPost.
For more information about Cenegenics, please visit them online, where you can register for quick access to the online Cenegenics Healthy Aging Kit: informative Guide to Healthy Aging, Executive Summary and media excerpts.
To schedule an interview, please contact Ann Castro, Cenegenics Director of Media Relations: 702.953.1588.
About Cenegenics®
Cenegenics® Medical Institute, recognized leading authority in age management medicine, has two centers in Las Vegas, Nevada, as well as centers in Charleston, South Carolina; Boca Raton, Florida; Dallas, Texas; Arlington, Texas; Atlanta, Georgia; Chicago, Illinois; Beverly Hills, California; Philadelphia, Pennsylvania; Washington, DC; New York City, NY; Tulsa, OK; Jacksonville, FL; Atlantic City, NJ; Houston,TX; Denver, CO; Scottsdale, AZ; Boston, MA. Additional centers are scheduled to open in other major metropolitan areas in the near future. With an established presence in the medical community, Cenegenics uses a proactive approach based on solid science and comprehensive evaluation. Their established protocols have been recognized as the next generation of medical science, capturing global attention. Cenegenics offers CME-accredited physician training and certification opportunities in age management medicine via the nonprofit Cenegenics Education and Research Foundation (CERF). Headquartered in Las Vegas, Cenegenics serves more than 20,000 patients worldwide—2,000 are physicians and their families.
###