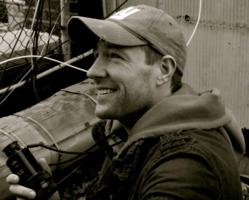 The collaborative aspect of the Studio Lab between film industry luminaries and Ringling students is leading to opportunities and accolades for both.
Sarasota, FL (PRWEB) November 14, 2011
The Ringling College of Art and Design today announced that acclaimed director, actor and writer Edward Burns will be the first film industry professional to address Ringling film students for the launch of the third season of the Ringling College Film-making Studio Lab. Mr. Burns will be instructing Ringling film students on the new economics of film and participating in Studio Lab development events on November 15th and 16th, 2011.
"We are excited to have Edward Burns here to kick-off the third season of the Film-making Studio Lab at Ringling College," said Ringling College president, Larry Thompson. "His insight into the new economics of film production and distribution will be invaluable to our students. The success of our film school – now ranked as one of the top 25 film schools in the world - has attracted interest from all aspects of the entertainment industry. We have hosted Werner Herzog, Bill Paxton, Martha Stewart, Andy Garcia, Paul Schiff, Oren Moverman, Ben Foster, and Ed Carrol and this third season is going to be even more exciting. We are well on our way toward realizing our goal of bringing the movie industry to our community – and becoming a top ten film school."
Mr. Burns will be conducting a Q & A session on Tuesday, November 15th at the Ringling College Academic Center auditorium from 3:30 to 5:00 PM. Media is invited to attend the Q & A session. He is currently starring in '40', Doug Ellin's new HBO series.
"Edward Burns embodies the aspirations of Ringling College's Film School and Studio Lab," said David Shapiro, co-founder with Sam Logan of Future of Films LLC. "He is able to work both within Hollywood and on his own terms by virtue of his command of the tools of production and distribution. His insight into where the film industry is, and where it is going, will be invaluable to our Ringling film students. The goal of the Ringling College Film-making Studio Lab is to establish Sarasota as a viable and vital destination for filmmakers and the collaborative aspect of the Studio Lab between film industry luminaries and Ringling students is leading to opportunities and accolades for both."
Illustratively of this Director Werner Herzog and his editor Joe Bini worked with Ringling students last spring editing 'Into the Abyss', which went on to be the first documentary film to open the Toronto Film Festival. Mr. Herzog will be showing 'Into the Abyss' at the Sarasota Film Society Cine-world Film Festival on Thursday November 17th at 7:00 PM at the Burns Court Cinema.
Mr. Burns gained international recognition for his first feature THE BROTHERS MCMULLEN, which premiered in competition at the 1995 Sundance Film Festival, winning the Grand Jury prize. The film, which Burns wrote, directed and starred in, was shot on a budget of only $25,000 and went on to gross over $10 million at the domestic box office, making it the most profitable film of 1995. The film also won "Best First Feature" at the 1996 Independent Spirit Awards. Burns' second film, the romantic comedy SHE'S THE ONE starring Jennifer Aniston and Cameron Diaz, reinforced Burns' versatile talent as a writer, director, and actor able to simultaneously and successfully wear multiple hats.
Burns continues to write, direct, star in and produce his films, including the Paramount Classics relationship comedy SIDEWALKS OF NEW YORK, PURPLE VIOLETS, and most recently, NICE GUY JOHNNY. In a groundbreaking deal, Purple Violets was the first feature film to premiere exclusively on iTunes. Burns built on this platform and successfully released Nice Guy Johnny via digital distribution in 2010.
His 10th feature film as a writer, director and actor is the romantic drama NEWLYWEDS, which will premiere at the 2011 Tribeca Film Festival. Burns has been involved with TFF since the festival's inception in 2002. This will be his 6th film featured at TFF and will close the festival.
As an actor, Burns starred opposite Tom Hanks and Matt Damon in Steven Spielberg's critically acclaimed World War II epic SAVING PRIVATE RYAN. He also starred in the thriller 15 MINUTES opposite Robert De Niro, CONFIDENCE opposite Dustin Hoffman, and the 20th Century Fox romantic comedy hit 27 DRESSES opposite Katherine Heigl. Burns can be seen in the upcoming feature film MAN ON A LEDGE opposite Sam Worthington and Elizabeth Banks, as well as in Jennifer Westfeldt's FRIENDS WITH KIDS. Additionally, he will star in '40', Doug Ellin's new HBO series.
About Ringling College of Art and Design
Ringling College of Art and Design is a private, not-for-profit, fully accredited college offering the Bachelors of Fine Arts degree in 13 disciplines: Advertising Design, Computer Animation, Digital Film-making, Fine Arts, Game Art & Design, Graphic & Interactive Communication, Illustration, Interior Design, Motion Design, Painting, Photography & Digital Imaging, Printmaking and Sculpture, and a Bachelor of Arts degree in the Business of Art & Design. Located in Sarasota on Florida's Gulf Coast, the picturesque 47-acre campus now includes more than 100 buildings, and enrolls 1,320 students from 46 states and 46 countries. It is recognized as being among the best and most innovative visual arts colleges in the United States as well as a leader in the use of technology in the arts. http://www.Ringling.edu
About Future of Films, LLC.
Future of Films leverages unique opportunities in media production and content as the old models rapidly change, focusing on convergences between traditional and new media. Co-founders Sam Logan (Sarasota) and David Shapiro (New York) are bringing to bear their extensive relationships in the film and TV industry to provide for rapid development of the Ringling Digital Filmmaking Studio Lab, a groundbreaking project that combines education with film development. The Studio Lab is designed to provide Ringling College of Art and Design students have hands-on experience with top-tier directors, producers, writers, and cinematographers as well as to help Sarasota become an integral part of the film industry.
###