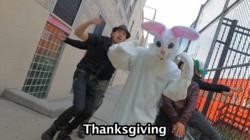 Thanksgiving 1, 2!!!
New York, NY (PRWEB) November 15, 2011
It seems like Thanksgiving will be getting a new mascot this year. Yes, the title says Thanksgiving Bunny. Do you know what a Thanksgiving Bunny is? No? Good. Because there wasn't one before it was made by JellyFishMoFo Productions.
The Thanksgiving Bunny is the creation of writer/comedian, Nahshon Rison and his sketch comedy website JellyFishMoFo.com. JellyFishMoFo wanted to get the holiday season started off, apparently, as crazy as possible.
The video aims to be pure nonsense and it features a rapping bunny, (yes a rapping bunny), a silly dance and other…stuff. The song also features a very interesting interlude that could only be described as just that, interesting. It starts about 2 minutes into the song and well, you will just have to see it for yourself.
But does this video have the potential to become a huge viral hit? Let's see:

It's ridiculous, comedic, funny, hilarious,
video and song actually have catchy dance moves and lyrics,
and… it's completely ridiculous
From actually reading the subtitled lyrics to trying to figure out what some of the backup posse is doing in the background, this song and the video will be stuck in anyone's head. It has a lot of what some people want in their viral videos and then some. So watch the video and decide for yourself. However, be warned that after watching it, Thanksgiving might never be the same for you ever again. Ever.
#JellyFishMoFo #ThanksgivingBunny #ThanksgivingSong
###