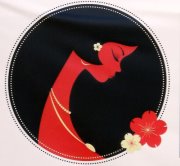 Love of the craft, presentation and customer satisfaction.
Johnson City, NY (PRWEB) November 15, 2011
E-ky Jewelry & Gift Boutique is a unique shop of custom designed and inspired jewelry for lasting memories of all occasions. Whatever the event or occasion, they have the perfect piece for you. Located at 728 Riverside Drive in Johnson City New York, they are the best in town when it comes down to customer service. Their products include handcrafted jewelry, handmade all natural soaps along with all natural skin care, and gowns for all occasions.
Bring unique thoughts, plans and memories and they will design a unique masterpiece that will become an heirloom to be passed on for generations. They have distinctive jewelry for those special occasions, for those special people cherished and loved, and for the mementos to be cherished for a lifetime. They promise to enrapture personalities with a custom made piece.
Eky's Jewelry, founded by Ebboni Gaspard, started as a project to create custom jewelry as a hobby to provide gifts for friends and family. Ebboni saw the impact of her jewelry on friends and family, and as a result decided to create a business venture that could be shared with others. She has been very successful selling her hand-crafted jewelry products at art and craft shows. Ebboni's motto is "Love of the craft, presentation and customer satisfaction."
###