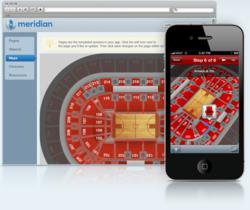 "Meridian provides location-based businesses and venues ways to improve customer service and engagement at the most important moment possible: when the customer is right there at the location," said Drew Bernard of Oregon Angel Fund.
Portland, OR (PRWEB) November 14, 2011
Meridian announced today the mobile-software company has closed a $1 million round of seed funding led by Oregon Angel Fund and Bellingham Angels Group. The funding will be used to meet existing and projected enterprise-customer demand for its location-based software platform. Meridian's enterprise mobile-device software is used by location-based businesses and venues to engage with customers via the communications tool they use most – their mobile phones.
Since launching in March 2011, many locations with millions of visitors per year have already signed on to start using Meridian: chain retailers, large hospitals, pro-sports stadiums, casino/hotel conglomerates, real estate companies, convention centers, museums, parks, Fortune 500 corporate campuses and more.
Soon to be publicly announced, many of these locations will use Meridian's first product, a single mobile app for iOS and Android that networks locations, each with their own branding, into one user interface. Meridian's seed funding will be used to deploy these enterprise customers' presences on the Meridian app, as well as develop additional location-based software products and features to fulfill needs in other areas of these customers' mobile strategies. In addition, Meridian is currently developing software tools to enable third-party developers and partners to build features for customers in Meridian's targeted industries.
One partner, Cisco, has proven pivotal in Meridian's progress since launch. Meridian's founders have worked with Cisco since the networking giant turned to them to build the first "indoor GPS" app for the American Museum of Natural History (launched in July 2010). Since Meridian launched in March, Cisco has already begun leveraging the platform to help serve the needs of their location-based customers. Since launch, the two companies have worked together to introduce the platform to hundreds of mobile-computing decision makers in retailers, stadiums, hospitals and other industries seeking a way to connect with their visitors wherever they are. For example, Meridian will join Cisco's sold-out event, "Next Generation Secure Mobility Applications and Services," in Chicago on Nov. 16 and 17.
Drew Bernard of Oregon Angel Fund commented on why the organization chose Meridian for an investment: "We live in a mobile development hotbed, so we see a lot of mobile startups' stories cross our desks. What stands out with Meridian is that their team has been developing mobile apps for locations for 10 years. They're recognized around the world for their expertise with the software and hardware real location-based services require. Meridian provides location-based businesses and venues ways to improve customer service and engagement at the most important moment possible: when the customer is right there at the location."
"It was very important for us to find investors who understood the issues facing enterprises when it comes to mobile, and we found them with Oregon Angel Fund and Bellingham Angels Group," said Kiyo Kubo, CEO of Meridian. "Now, we can focus all our attention on the places, third-party developers and partners who are excited to start leveraging our mobile-software platform too."
Meridian is seeing enterprise customer adoption at a logical time. Mobile app usage may have surpassed desktop and web usage this year, yet developing rich, location-based apps has remained out of reach for many location-based businesses. Developed over three years and with knowledge from 10 years of mobile experience, Meridian's software makes deploying mobile experiences more affordable and uncomplicated for enterprises who see millions of visitors but don't have millions to spend. And, unlike other location-based services with a consumer-only business model, Meridian considers the needs of the enterprise too.
To download Meridian's first product for iOS devices, go to:
http://itunes.apple.com/us/app/meridian/id404946736?mt=8
For Android devices, go to:
https://market.android.com/details?id=meridian.app
About Meridian
With offices in Portland, Ore. and San Francisco, Meridian is a mobile software supplier of location-based services. Meridian's flagship product is the first mobile-app that engages visitors with turn-by-turn directions and other location-based services wherever they are in participating locations. The founders of Meridian bring to the software company 10 years of experience working with enterprises on developing location-based services for mobile devices. You can learn more about Meridian at http://www.meridianapps.com.
About the Oregon Angel Fund (OAF)
Founded in 2007, OAF is a highly structured, professionally managed, investor-driven venture fund backed by the leaders of Oregon's business and technology community and the Oregon Growth Account. OAF invests some $3 million annually in the most promising startups and early-stage growth companies in Oregon and SW Washington. The Fund's managers and investors play an active role in advising and growing the 22 companies backed to date. Over 500 jobs have been created by the companies in the portfolio. For more information, please visit: http://www.oregonangelfund.com.
About the Bellingham Angels Group
The Bellingham Angels, founded in 2005, is a local group of investors dedicated to providing equity capital to early and mid-stage entrepreneurial companies in the Pacific Northwest with emphasis in Whatcom, Skagit and Island Counties. Learn more about the Bellingham Angels Group by visiting http://www.bellinghamangels.com.
# # #