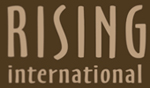 We are honored to have Leslie Magsalay join our international board of directors. Her expertise in portfolio execution and operations excellence and her dedication to make the world a better place will be a valuable asset for our organization.
Los Altos, CA (PRWEB) November 14, 2011
Rising International announced the election of The PMO Practice Founder / COO and Advisory Board Member Leslie O. Magsalay, M.S. to its international board of directors today during its board meeting in California.
Leslie Magsalay has served as the COO (Chief Operating Officer) / Advisory Board Member of Rising International for the past year. "We are honored to have Les join our international board of directors," said Carmel Judd, Founder / Executive Director, Rising International. "Her expertise in portfolio execution and operations excellence and her dedication to make the world a better place will be a valuable asset for our organization. Leslie has been working to deliver a content-rich technology platform that provides tools to portfolio management, budgets, schedules and launches, so Rising representatives endeavored to deliver high quality products. Leslie is currently revamping our over-all technology infrastructure as we scale our operations. This includes delivering and launching to market an ecommerce platform that will increase gross margins to 20% and profits by 100%."
"I am delighted to be elected as a Board of Director for Rising," Leslie said. "Since meeting Carmel and her organization we have accomplished a tremendous amount, establishing Rising's global footprint in the high technology space. The foundation that we've built over the last few months will allow us to expand in our existing market and rapidly capitalize on new adjacent opportunities. I am excited to be growing Rising's product portfolio."
About Leslie O. Magsalay:
Leslie O. Magsalay is the Founder and Chief Operating Officer of The PMO Practice. She graduated summa cum laude with a Master of Science in electronic business management from Notre Dame de Namur University. She has received lifetime achievement awards for her work in portfolio execution and operations. As COO, Leslie led 6+ M&A program integrations for Fortune 500 clients with 2+ acquisitions. She identified/saved $5M CoGs (OpEx) in three months, which added $2.5M to the bottom line for a Fortune 500 client. In the PMO Practice Magsalay has delivered a content-rich enterprise and software solution that provides tools for portfolio management, budgets, schedule and product lifecycle management.
About The PMO Practice:
The PMO Practice is a management consulting and executive coaching firm. The company provides executive advise, leads program execution and models operational excellence so companies can act more efficiently and effectively in scaling operations. Plan. Execute. Deliver. Effectively at The PMO Practice. Since its foundation in 2011, The PMO Practice successfully delivered 12 products over three product and service offerings (management consulting, books, and events such as conferences, seminars, workshops and speaking engagements.) As it continues to ramp up in 2012, PMO Practice will add a full calendar of conferences and an expanding suite of portfolio management and operations excellence products.
About Rising International:
A registered 501(3)(c) Non-Profit Organization that contributes to ending world poverty by enabling women, to participate in the global economy through the only market for fair-trade crafts sold through the home party system. By selling their handmade crafts and sharing in their life stories, impoverished women reach out to the rest of the world, not for charity, but for a chance. Some of the items Rising promotes are traditional crafts passed down through generations, such as the baskets made by Ugandan women who have lost their children to AIDS, while others are new craft lines created for the Western market such as the silk purses which are woven by widows in Cambodia. End poverty from your living room at http://www.risinginternational.org. Make a donation to Rising International.
REVIEW COPIES AND INTERVIEWS ARE AVAILABLE
###