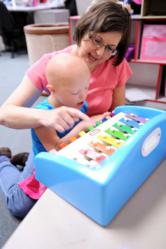 Every day Viviana is not at The Little Light House, is a day she's not developing to her full capabilities.
Tulsa, OK (PRWEB) November 18, 2011
In Tulsa, Oklahoma over 100 children with special needs are waiting. Children with down syndrome, cerebral palsy, spina bifida, autism, and many other disabling conditions are hoping to start school at the Little Light House, where preschool children come and miracles are made daily.
Channing Smith, father of Viviana, has been waiting for his daughter to come to the Little Light House for the past 2 years. Viviana is one of more than 100 children who will wait 2-3 years before enrolling in the program which provides tuition-free services to children with special needs like down syndrome, cerebral palsy, autism, spina bifida, and other disabling conditions. Early intervention is critical to development, and the Little Light House provides individualized special education and therapy services to preschool aged children. "For Viviana, every day counts. Every day that "Vivs" is not [at the Little Light House] is a day where she's not developing to her full capabilities," Smith says.
The program has received international and national acclaim. Hundreds of college students and professionals come through the school each year to receive training to help them better serve children with special needs in the community. With increasing numbers of professionals requesting observation of the unique program, as well as the ever-growing waiting list, the Little Light House has decided to expand its facility.
Donations are being accepted from the public to help the Little Light House reach a goal of $16 million by December 31. Currently 70% of the expansion phase, which is phase two of the three phase project, has been raised. The new facility would provide a new world of sensory stimulation for the children, complete with a sensory garden. It would also have areas for student observation and staff and professional training. Most importantly, the building would allow the waiting list to shrink dramatically and more students to get the care that they need, more than doubling the current student population. "If we can get the capital that's needed to get this new facility in place, not only will these children have a better experience and better care, but we're not going to leave any child behind," says Smith.
Donations are now being accepted for the new facility. Visit http://www.littlelighthouse.org for more information.
Contact: Molly Smith
Director of Development
msmith(at)littlelighthouse(dot)org
(918)664-6746
###