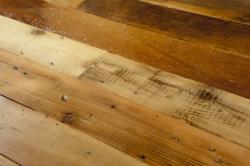 WoodTalks shiplap is one of the most versatile wood products, a beautiful resourced wood with character and stories our customers will love, shares Brooks Perlin, EcoSupply
New York City, New York (PRWEB) November 14, 2011
Heritage Salvage, http://www.heritagesalvage.com, announces expansion to East Coast with collaboration partner, EcoSupply. Heritage Salvage WoodTalks, reclaimed building materials, is now available for purchase on East Coast through EcoSupply based in Richmond, Virginia.
"We are enthusiastic about collaborating with Heritage Salvage. We're offering WoodTalks reclaimed shiplap fir to our East Coast customers. WoodTalks shiplap is one of the most versatile wood products. We believe this first step expands our sustainable material lines to include beautiful resourced wood with character and stories our customers will love", shares Brooks Perlin, CFO EcoSupply.
Heritage Salvage has been offering reclaimed building materials and sharing their stories for over ten years on the West Coast.
WoodTalks shiplap, spent its lifetime coddling grains in Washington. The patina shiplap fir is telling it's story on the floors of homes, restaurants and commercial venues. Reversible, in 3", 5" and 7" widths at 5/8" thick, customers may display either a storied or a newly milled side.
Reclaimed shiplap can be used as flooring, wainscoting, paneling, ceiling treatments, cabinet doors, and more.
Future offerings include chocolate acacia slabs sourced from Hawaii. Cousin to Koa, Chocolate Acacia is exotic and delicious. Slabs may become tables, counter and bar tops. Additional offering includes hand-hewn beams from 100-150 year old barns that may become structural support, accents or shelving. All materials are delivered with their unique story.
"Our EcoSupply collaboration makes it possible for more people to enjoy and learn about incredible materials that we reclaim, shares Bug, founder of Heritage Salvage. "We've also developed a system to sustainably move materials across country with coordinated delivery systems."
Heritage Salvage WoodTalks is now available through EcoSupply, http://www.ecosupplycenter.com.
About EcoSupply http://www.ecosupplycenter.com
ECO Supply distributes a variety of sustainable, cutting-edge materials for commercial and residential interiors. The company's East Coast reach is the result of a merger between Richmond, Va.-based ECO Supply Center and Brooklyn-based Bettencourt Green Building Supplies. Thanks to our roots as makers of high-end furniture and millwork, we can offer expert guidance on choosing the right materials for each project.
About Heritage Salvage http://www.heritagesalvage.com
Heritage Salvage, your green building source, has a three-acre yard of reclaimed building materials and architectural salvage, custom wood shop and a salvage boutique. A comprehensive design and build team is available on premises to meet your needs sustainably. If you can draw it on a bar napkin or show us a picture, we can build it! Heritage Salvage has supplied materials and built the furnishings for over 30 restaurants, bars, stores, barns and homes.
###