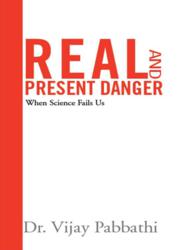 The total death toll of medical science errors will exceed the total death toll of the World War II, if we do not address this problem immediately." – From 'REAL and Present Danger'
(PRWEB) November 16, 2011
Dr. Vijay Pabbathi, author of Real and Present Danger, shows evidence for how authorised drugs are causing more deaths than the number caused by the Indian Ocean Tsunami or recent Haiti earthquake. He gives his estimations for future deaths due to unwanted drug reactions (technically known as Adverse Drug Reactions) in the UK and the USA during the next 10 years. He then recommends a number of solutions to resolve these future dangers.
The book also takes the readers through a scientific analysis of how the money spent by governments in the developed countries is indeed aggravating medical problems instead of solving them.
The debate, in the chapter titled 'Conspiracy Theory', challenges the validity of established concepts such as 'Evidence Based Medicine' in healthcare. In the chapter named 'True Lies', the book indicates how medicines are being fabricated to turn healthy people into sick people for profit.
In the chapter termed 'For Your Eyes Only', readers learn the reasons why heavily marketed drugs are increasingly becoming unsafe. Readers will also learn how pharmaceutical companies are endangering the safety of our health by the illegal marketing of medicines. Arguments are supported directly with published data from scientific journals. The question of how to recognise the quality of medical science is also examined, and some recommendations are provided for clarity. Finally, in a chapter termed 'Mission Impossible', a radical strategy is provided to put an end to many of the problems associated with the current models of science and the pharmaceutical industry.
Interestingly, titles of films from the action genre like 'Die Hard', 'A View to a Kill' and 'Live and Let Die' are used as the chapter titles of this book – which sustains readers' interest. Features like 'Key Points' and 'Recommendations' at the end of each chapter make this subject an easy read.
This book has the potential to shape the future of medical sciences and healthcare systems in developed countries.
Title: Real and Present Danger
Subtitle: When Science fails us
Author: Dr. Vijay Pabbathi
ISBN number: 978-1-4653-5175-3
Published date: 10 October 2011
Publisher: Xlibris Corporation
Available at: http://www.xlibrispublishing.com, http://www.amazon.com/ and http://www.barnesandnoble.com/
Media contact: Dr. Vijay Pabbathi
e-mail: info(at)vijaypabbathi(dot)co(dot)uk
website: http://www.vijaypabbathi.com
Tel: 0044(0)7786088309
###