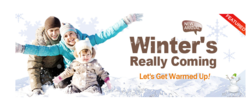 Hong Kong, China (PRWEB) November 18, 2011
No one needs to be reminded just how important it is to stay warm during winter; everyone naturally goes for warmer clothes during the cold season. DinoDirect wants all their shoppers to stay protected from the cold winter chills, by offering their selection of winter outfits at reduced prices.
DinoDirect's store manager spoke about their winter promotion by saying "winter's really coming, let's get warm! Enjoy DinoDirect's touch of warmth in the winter at our warm-up-sale!" This is the right time to shop for winter clothes, before the temperatures fall down; making it difficult to do any shopping or work for that matter.
No one knows better just how difficult it is to find warm, chic and affordable winter clothes than women. Unlike men, who can simply adjust to the weather by adding a few articles of men outwear to their wardrobes, women need to completely change their wardrobes during the winter. The clothes that women wear normally cannot offer the required level of warmth and protection required during winter.
Most chic winter clothes are often priced highly and the affordable winter outfits tend to look drab and unfaltering to women's silhouettes. DinoDirect's new selections of women's overcoats are not only trendy, but they are offered at greatly discounted prices. Overcoats are the best additions to every woman's wardrobe, because they are designed to shield the wearer against the cold and to pair well with a number of different outfits.
The sweatsuit is one of the most common outfits worn during the winter period. As trends change, more interesting sweater designs come up and DinoDirect's store manager explains further about their stock "Inspired by the latest fashion ideas, these sweaters are cute and in style. Moreover, they are effective in giving you warmth. Without any further search, you can find the ideal women sweater from our online store."
The other items that women need to add to their wardrobes in order to stay warm during the winter are women's boots. In order to stay trendy during the winter, every woman should consider investing in the flat boot and high heel boot. The great thing about winter boots is that they pair well with most seasonal outfits and they can be worn throughout the year. However, it is wise to go for leather or suede boots; in order to utilize these boots throughout the year. The choice is up to the consumer and the online retailer gives shoppers the opportunity to decide how they want to look during winter by placing their attractive selection of winter footwear and outwear on sale. The store also has selections of ideal winter outfits and footwear for children.
###