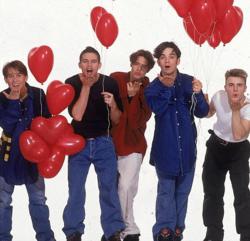 The brand of denim jeans that were worn by both E17 and Take That are just as popular now than they were 20 years ago.
(PRWEB) November 17, 2011
Is double denim back in fashion? The jeans brand BleuBolt think so.
The jeans brand plans a limited edition to celebrate the jeans history.
BleuBolt the denim jeans brand associated with street wear and boy band following teenagers is still going strong.
Back in the days when Take That and E17 were fighting it out on Top of the Pops, over 15 years ago double denim was well and truly in fashion.
Top of the Pops was going strong and there was no X Factor.
Now the music writer for Take That is now a judge on the music career making TV show and Top of the Pops no longer exists.
The brand of denim jeans that were worn by both E17 and Take That are just as popular now than they were 20 years ago.
The hard wearing jeans have kept the original designs and maintained the use of high quality of denim.
The styles have been changed slightly and the introduction of dungarees was a great success following the boy bands wearing them at half mast.
Of course wearing denim dungarees today isn't so much a pop fashion statement but a lifestyle choice.
More recently the jeans have been endorsed by an up coming thrash metal band Enemo certainly different to the days when the members of Take That wore the baggy jean styles made by the fashion jeans manufacturer London Modes.
Last year (2010) the Daily Mail (UK) reported Robbie Williams was going through a nostalgic return to his double denim days of Take Take during his reunion with the Take That band. Then later this year (2011) he launched his own fashion collection, no denim though!
With Robbie Williams launching his new fashion collection it would be great if he could revisit his wardrobe from the days when Robbie and the Take That band were in their youthful prime and wearing Denim. BleuBolt provided Take That with Overbag baggy jeans styles seen in the image and they are still in fashion today.
If you have any photo's of Take That wearing the coolest brand of jeans during their early days? Used to wear the jeans and still have them, maybe you got a pair of signed jeans?
Any photographs of Robbie or any Take That band member wearing BleuBolt baggy jeans should be added to the Bolt Jeans Face book page.
The jeans continue to be bought by original customers going back to when Take That started and with new customers trying and liking the jeans it's a brand of jeans that will be around for future pop stars and music artists.
The hard wearing comfortable jeans in various styles including the baggy jeans worn by Take That can be found on the bleu bolt jeans website. http://www.bleubolt.co.uk
###