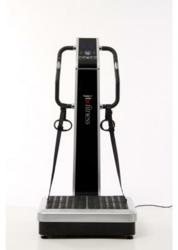 We hope that the JTX Salon Pro will bring the vibration plate fitness phenomenon to an even wider range of fitness establishments...
(PRWEB UK) 16 November 2011
With vibration plates proving increasingly popular in fitness centres across the world, UK-based JTX fitness has announced a new addition to their range of machines, the JTX Salon Pro. The JTX Salon Pro isn't simply a commercial grade oscillating machine built to withstand daily use either: thanks to feedback from customers, it features a wide range of speed settings and programmes, as well as workout straps and an impressive 1500 watt pivotal vibration motor. And it also features a groundbreaking price: £799.00.
With commercial-grade vibration plates typically costing over £3,000, the JTX Salon Pro will bring the fitness phenomenon to an even wider range of fitness establishments. The technology is, after all, about offering a fitness machine that is accessible to all. Like the rest of the range of JTX exercise equipment, the Salon Pro is price-accessible whilst offering an impressive feature-set. Key specifications include a large 68 x 51cm base, 60 speed settings, 23 programmes, an oscillating amplitude of 12mm and a 1500w vibration motor. A full list of differences between the JTX Salon Pro and its nearest competitor (the Flabelos V5) can be found here.
"Small and new businesses are key customers and we're offering a full-business start-up package and support programme with the Salon Pro" said a representative for JTX Fitness: "We're confident that the competitive price and the range of features will also be a hit with those who've already invested in the technology". JTX Fitness additionally offers free delivery, phone support and 1 year of next-business-day replacement in the unlikely event that you do have trouble with the machine.
Vibration plates have shaken up the fitness industry, offering a way of losing weight and toning muscles without the excessive strain associated with traditional machines. Common exercises like sit-ups, press-ups and squats are enhanced when performed in contact with the plate: it is therefore a simple to use machine that demands less of inexperienced users and is suitable for gym users of all ages. It also takes up little floor space in a home or fitness centre, adding to its appeal. It doesn't hurt that it has a space-age image either: whole body vibration therapy was pioneered to counter loss of muscle and bone mass among Russian cosmonauts.
JTX Fitness are a UK-based fitness machine specialist offering high-quality, own brand machines direct from the manufacturers of many well known fitness brands. Their aim is to offer the best value machines at half of the price of their competitors, by cutting back on shops, brochures and marketing activity. This allows them to emphasise what is most important: the fitness of their customers.
For more information please contact:
Lloyd Martin
lloyd(at)jtxfitness(dot)com
01273 422005
Notes to editors:
JTX Fitness is a fitness machine specialist based in Portslade, East Sussex. Founded in 2009, they offer a wide range of vibration plates, treadmills and cross trainers for home and commercial use. They work directly with manufacturers of popular machines to ensure they sell quality products at low prices. For more information about JTX Fitness please call 01273 422005 or visit http://www.jtxfitness.com.
# # #