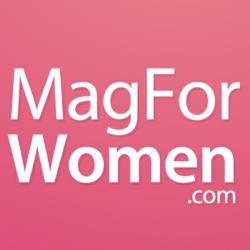 MagForWomen.com is fun to read, enjoy, interact and learn at the same time. Women would love the quality articles coming in daily.
(PRWEB) November 16, 2011
Internet Design Zone, a content development company, is pleased to announce the launch of a new website for women, http://www.magforwomen.com. This online magazine for women is free and includes all topics which women are interested in like beauty, relationships, makeup, health, weight loss, lifestyle, fashion, celebrities, etc. The magazine is for girls and women of all ages (16+) from all over the world.
Women often get such questions in their mind - how to make married life more interesting or what fun things could one do in free time? Information about different weight loss techniques or what are the most romantic destinations in the world? On MagForWomen.com, a girl will find everything that she may be looking for like celebrity gossip, beauty secrets, relationship advice, health tips, astrology, fashion tips and different ways to make her life richer and better.
Over 1500 articles have been written and published already on MagForWomen. The article topics include hobbies, parenting, pregnancy, marriage, weight loss, diet, career, family, travel, dating, breakups, skin care, hair care, aging, technology, etc.
There are many other websites for women, so what makes MagForWomen.com different? MagForWomen is elegantly designed, easy to browse and read and has well written quality articles by women for women. Magforwomen aims to cut down the clutter and focus only on topics which women are most interested in. Women can read the new articles daily on the homepage as they are published. A new cover story is posted on the homepage every day. Recent cover page stories were ways to lose weight fast where 50 ways to lose weight are listed and benefits of drinking water where 30 benefits are listed. Every article is accompanied with images to make the reading experience more interesting. The articles are written by women since only a girl can understand a girl's mind better. The website uses Facebook connect so that readers can like and comment on any article and also share articles with their friends. Readers can interact with each other on the site and share their views.
Magforwomen aims to be the starting page for women and be their best friend. It's a website where women can be updated about new happenings, new products, new trends, great places, tips and tricks, etc. This magazine for women will not just keep them informed, but also keep them entertained.
###