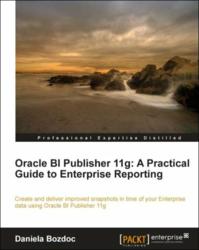 UK (PRWEB) November 15, 2011
Birmingham: Packt Publishing is delighted to announce the publication of Oracle BI Publisher 11g: A Practical Guide to Enterprise Reporting – a book and eBook guide for Oracle BI Publisher professionals.
What is Oracle BI Publisher? Oracle BI Publisher 11g (previously known as Oracle XML Publisher) facilitates the creation, management and delivery of various reports, making it a desirable tool for any company to achieve the best image or snapshot of their resources. The book offers a practical application of BIP functionality for improving an individual's ability to design and deliver quality reports just when they are needed.
The book's content includes information on: data models, migrating Oracle reports to Publisher, managing multiple data sources, designing and laying out reports, plus much more. By the end of Oracle BI Publisher 11g: A Practical Guide to Enterprise Reporting, readers will be equipped with everything they need to know to produce complex reports detailing company data. The book and eBook is available, directly from Packt Publishing, as well as other leading book retailers.
Packt Publishing is one of the world's foremost publishers of Oracle books. In recent months, a number of new titles have been released to market, including:
1. Getting Started with Oracle Hyperion Planning 11
2. Oracle Data Integration, Consolidation and Migration
3. Oracle Identity and Access Manager 11g for Administrators
4. Oracle Weblogic Server 11gR1 PS2: Administration Essentials
In the Oracle Business Intelligence and Financials space, Packt has (previously) published relevant titles including:
1. The Business Analyst's Guide to Oracle Hyperion Interactive Reporting 11
2. Oracle Business Intelligence : The Condensed Guide to Analysis and Reporting
3. Oracle E-Business Suite 12 Financials Cookbook
4. Oracle PeopleSoft Enterprise Financial Management 9.1 Implementation
All Packt's 70+ Oracle Books can be found on the Oracle Books category page.
All Packt titles are available in print, eBook, Kindle, and certain library formats. Packt has its own in house library platform called PacktLib which can be accessed through any web connected browser for a low annual subscription.
###