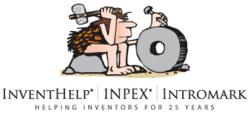 Pittsburgh, PA (PRWEB) November 16, 2011
InventHelp®, America's largest invention submission company, announces that two of its clients, inventors from Texas, have designed a game that would be a combine the challenge of putting together a puzzle with dominoes. This invention is patented.
"Puzino" would combine several different elements of game playing; card playing, dominoes and puzzle building. It could add a new twist to traditional games, and would allow several different games to be played using the same pieces. Requiring less playing space than traditional dominoes, Puzino would help to promote healthy competition while bringing friends and families together to play a fun game.
The game pieces would be similar in design to conventional dominoes, with colored and numbered pieces, but would feature interlocking cutouts similar to puzzle pieces. Play would be similar to standard dominoes, where players attempt to match the same numbers on both ends of a line. Players could score horizontally or vertically, but pieces don't have to match adjacent pieces since the score would be added from opposite ends. Five additional pieces would feature different colored numerals, and to play one of these pieces, the user must match the numeral to a piece featuring a number of dots equal to the numeral, with the dots also being the same color as the numeral. The inventors noted that 16 different domino games could be played with these game pieces, and other games playable could include: Poker, Go Fish, Aces Up, Black Versus Red, 21 and more.
InventHelp® is attempting to submit the invention to companies for review. If substantial interest is expressed, the company will attempt to negotiate for a sale or royalties for the inventor. For more information, telephone Dept. 07-AUT-146 at (800) 851-6030. Manufacturers interested in reviewing additional inventions and new product ideas can contact InventHelp's marketing partner Intromark by filling out an online request to review new product ideas here.
# # #